Bertram 'Bert' Bushnell
A boat builder's son from Wargrave, Bert Bushnell might be under six foot and slight but he's confident and assured - he knows that he's got what it takes to represent his country in the single sculls.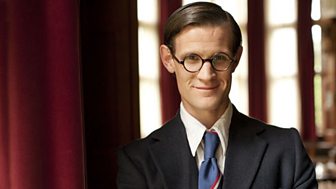 When he does win a place on the British team, however, he's shocked to discover that it's not in the event for which he's trained. Instead the selecting coach, Jack Beresford, has decided that Bert will partner Dickie Burnell in the double sculls. Unable to hide the chip on his shoulder, Bert is openly hostile to Dickie and their first outing on the river is a disaster – as each tries to out-scull the other.
Despite Bert's utter determination to succeed, his resolve waivers in the absence of his girlfriend Margaret and an apparent lack of support from his father. Coupled with the sheer physical strain of training, the pressure becomes immense.
Matt Smith
As a teenager Matt was a talented footballer and considered turning professional. However a back injury forced him out of the sport, and he turned to acting instead.
He studied Drama and Creative Writing at the University of East Anglia in Norwich. At 27 he is the youngest actor to be cast as the Doctor in Doctor Who. He has also appeared in television productions Party Animals, Secret Diary of a Call Girl, The Street, Moses Jones, The Ruby in the Smoke and The Shadow in the North.