Rachel Stein
Rachel is Ephra's wife. Expecting their third child together, Rachel is very much a maternal figure over the Stein family and, although tightly wound and far more emotionally volatile than her sister-in-law, she too is fearless when put under pressure. Not always entirely trusting of her husband, or indeed the relentless work that the Stein family carries out at such a high pace, Rachel's sense of isolation grows as the story unfolds and she is confronted with secrets and deceptions that threaten to tear the family apart.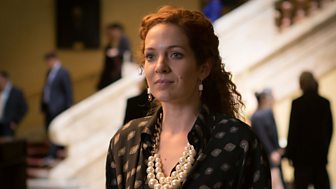 Katherine Parkinson
Katherine is perhaps best known for her role as Jen Barber in the Channel 4 comedy The IT Crowd, for which she won a British Comedy Award a BAFTA. Other television credits include Inside No. 9, Officially Special, Bleak Old Shop of Stuff, Whites, Doc Martin and Sherlock. On the radio, Katherine has leant her voice to comedies Welcome to Our Village, Please Invade Carefully and Stop/Start.
On stage Katherine has appeared in The Age of Consent, Before the Party, Cock, The Seagull, School for Scandal and Absent Friends.
Explore The Honourable Woman