Nick Cotton
Nick started a villain and continued to prove that he was rotten to the core. He's been a racist bully, a heroin addict and a pimp. He's lied, stolen, tried to poison his Ma and spectacularly came back from the dead.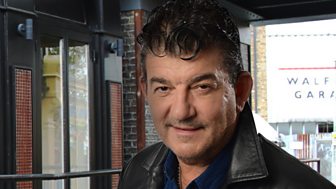 | Fact title | Fact data |
| --- | --- |
| First appearance: | 19th February 1985 |
| Last appearance: | 19 February 2015 (DOD: 13th February 2015) |
Walford has had its fair share of villains over the years, but Nasty Nick Cotton is in a league of his own. The Dickensian baddy with his leather jacket and greased-back hair was the ultimate East End thug.
He committed his first murder in 1985 (killing Reg Cox), while trying to get his hands on his war medals. Since then he has tried to poison poor Dot, killed for a second time, plotted murder with his butter-wouldn't-melt 'daughter' Dotty and, most recently, tried to convince everyone that he had died.
His comeuppance finally came after cutting the brakes of Ronnie's car, plunging her into a coma. Spiraling back to a life of drugs Nick passed away in the burnt out ruins of number 23, after consuming a bad batch of heroin bought for him by his very own mother Dot.
"Goodbye, Ma."
Played by John Altman