BBC Symphony Chorus
The BBC Symphony Chorus is one of the finest amateur choruses in the country, making more television and radio appearances than any similar choir.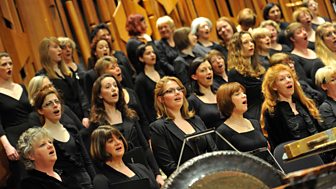 | Fact title | Fact data |
| --- | --- |
| Home: | BBC Maida Vale Studios |
| Chorus Director: | Stephen Jackson |
| President: | |
| Vocal Coach: | Deborah Miles-Johnson |
| Accompanist: | Paul Webster |
One of the UK's finest and most distinctive amateur choirs, the BBC Symphony Chorus was founded in 1928. Its early appearances included premieres of Bartók's Cantata Profana, Stravinsky's Perséphone and Mahler's Eighth Symphony and this commitment to new music is undiminished today with premieres and commissions in recent years of works by Sir Peter Maxwell Davies, Judith Weir and Sir John Tavener.
In its appearances with the BBC Symphony Orchestra, the Chorus performs a wide range of challenging repertoire, most of which is broadcast on BBC Radio 3. Concerts in the 2013-14 Barbican season included performances of Elgar's The Apostles and The Dream of Gerontius with Sir Andrew Davis and one of the BBC SO's Total Immersion: Villa-Lobos concerts under Chief Conductor Sakari Oramo and the Chorus season finale performance of Faure's Requiem under the baton of Ludovic Morlot.
Appearances at the 2014 BBC Proms include performances of Elgar's The Kingdom, Ravel's Daphnis and Chloe, Rachmaninov's The Bells and Stravinsky's Oedipus Rex, as well as the iconic Last Night of the Proms.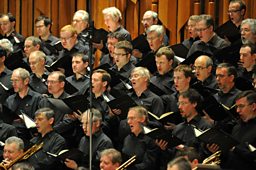 Performances in the BBC SO's 2014-15 Barbican season include John Adams's Harmonium, Rachmaninov's cantata Spring, the UK premiere of Brett Dean's The Last Days of Socrates, and Bliss's Morning Heroes conducted by Sir Andrew Davis.
As well as dedicated studio recordings for Radio 3 the Chorus has also made recordings for commercial record labels, most recently featuring alongside the BBC SO on recordings of Holst's Choral Symphony, Szymanowski's Stabat Mater and Harnasie and Brett Dean's Vexations and Devotions. The Chorus also performs on its own and with other orchestras at events in the UK and abroad.
Who's who
Chairman - Andrew Parkin
Honorary Secretary - Anne Taylor
Honorary Membership Secretary - Valerie Isitt
Honorary Treasurer - Paul Heggs
Librarian - Jim Nelhams
Seating Manager - Olga Noble
How to apply
We are always keen to hear from singers with choral experience who may be interested in joining the BBC Symphony Chorus.
Auditions for new members are held throughout the year. These take place on dedicated auditions evenings at our regular rehearsal venue, the BBC's Maida Vale Studios near Paddington.
Auditions usually last 10-15 minutes. You will be asked to prepare a solo piece that reflects the sort of repertoire that the Chorus sings, and allows you to demonstrate your singing ability. You will also be given some sight reading and will be asked to sing some scales to determine your vocal range.
The audition is taken by the Chorus Director and usually also our Vocal Coach. We will provide an accompanist and a warm-up room.
To apply for an audition with the BBC Symphony Chorus please contact the Chorus Administrator.
Please note that we currently have limited vacancies in our soprano section, and are only able to offer auditions to those with exceptional musical ability and sight-reading.
Open Rehearsal: Friday 19th September, 6.40pm
An opportunity for singers who are interested in auditioning for the Chorus to take part in a rehearsal of John Adams' Harmonium taken by Chorus Director Stephen Jackson, at the BBC's Maida Vale Studios.
A number of places are available at this rehearsal for singers who would like to see how rehearsals are run and find out more about the BBC Symphony Chorus. To take part you'll need to be a confident singer with excellent sight reading ability. This is a free event and all of the music that you'll need will be provided on the day.
Please note that places are limited, and will be allocated on a first-come first-served basis within each voice part. You must be over 18 years old to participate in this event.
To apply for a place, please email the Chorus Administrator.
Frequently Asked Questions
When and where does the Chorus perform?
Each year the Chorus performs in approximately six concerts between October and May with the BBC Symphony Orchestra at the Barbican Hall in London, and in five or six of the BBC Proms at the Royal Albert Hall between July and September, usually including the First and Last Nights at the Royal Albert Hall. The Chorus also gives some concerts on its own and with other orchestras at other UK venues and abroad.
What repertoire does the Chorus sing?
The Chorus performs a great deal of 20th century and contemporary repertoire, including specially-written commissions, first performances, and a cappella works as well as the more standard large choral works.
When and where do rehearsals take place?
Rehearsals are held twice a week from 6.40-9.10pm at the BBC's Maida Vale studios near Paddington, regularly on Fridays, with the other evening alternating between Monday and Wednesday. Rehearsals are taken by Chorus Director, Stephen Jackson. In the week of a concert there are additional rehearsals, taken by the conductor for that concert, and these occasionally take place during weekday afternoons.
How much time will I need to commit?
The commitment from Chorus members is quite a full one, with rehearsals taking place twice a week throughout much of the year. However, you are not expected to be able to sing in every concert. Chorus members who wish to sing in a particular concert need to attend a minimum number of rehearsals: usually 70% of rehearsals taken by the Chorus Director, plus all of those taken by the conductor of the concert.
Do I need a trained voice to join the Chorus?
It is not essential to have had singing lessons to join the Chorus, although they are useful and members are encouraged to take them. Chorus members can sign up for individual coaching sessions with our Vocal Coach, Deborah Miles-Johnson.
What does it cost to belong to the Chorus?
There is no membership fee, and music and folders are provided free of charge. Chorus members provide their own concert dress and are responsible for the cost of their travel to rehearsals and concerts in London. Travel, accommodation and subsistence are provided for concerts and tours outside London.
How do I join the Chorus?
To apply for an audition with the BBC Symphony Chorus please contact Alison Dancer, Chorus Administrator, to request an application form.
Get in touch
Email: bbcsc@bbc.co.uk
Tel: 020 7765 4715
Address: BBC Maida Vale Studios, Delaware Road, London, W9 2LG