Ed Byrne
Ed is a stand up comedian and regular guest on news panel shows Mock The Week and Have I Got News for You. He is also a passionate hill walker and admits to being no stranger to fleeces and outdoor clothing.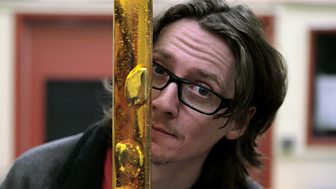 Ed lists the Scottish Highlands among his favourite places. He has become a committed "Munro bagger", trying to climb all the Scottish peaks over 3000 feet. This landscape is a reminder of the UK's own volcanic past, formed more than 50 million years ago.
For Volcano Live, Ed discovers the principles behind volcanic phenomena. He deploys bottles of fizzy drinks, chewy mints, golden syrup, sugar, plastic balls and an oxyacetylene torch in a series of experiments. He explains why some volcanoes explode and others ooze, what a supervolcanic eruption would look like and how rock becomes liquid.