Lynn Bowles
BBC Radio 2 personality Lynn takes up residence on BBC Radio Wales to keep you company on Sunday afternoons from 2 PM.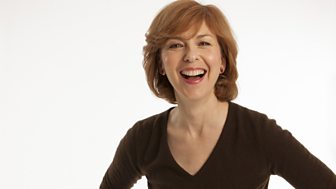 I was born and brought up in Wales, Cardiff to be exact - my mother has told me she spent quite a lot of time apologising to the midwife after my birth. I thought it best not to ask exactly why, but I bet lots of people can guess.
I've been working in London at BBC Radio 2 for the past twelve years trying to keep the country moving with travel news. I'm very lucky I have worked with Terry Wogan and now have the good fortune to spend my mornings with Chris Evans and Ken Bruce. However, for some time, the donkeys have been keen to come home. The donkeys? Yes, my Great Uncle Joe had the fastest donkey in Cardiff. Naturally I still keep them, and they yearn for the valleys.
So I'm on my way home, thrilled and excited to be working with BBC Radio Wales. You may see us clip-clopping up the M4. I just hope there's ample grazing outside the studio.