Lucie Skeaping
Uncovering forgotten music and bringing it to life through her own performances is Lucie's skill and passion.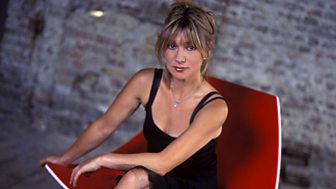 She went to the Royal College of Music hoping to be a virtuoso violinist but got waylaid in the canteen one day by a table of scruffy types who were studying early music which sounded much more interesting, so she took up the lute and viol and just about every other period instrument she could find.
Recordings and concerts all over the world followed but the roar of the greasepaint beckoned and she found herself working in variety as one of the Ken Dodd dancers, as assistant to 'Ivan Ivanovitch the Smallest Strongman in the World' and later as presenter of BBC TV children's and travel programmes.
But she was soon back in the music world full time working with the City Waites, the Consort of Musick, the Martin Best Ensemble, the Michael Nyman Band, the (then rather daring) 'Sadista Sisters' and the English Consort of Viols, eventually forming her own band The Burning Bush.
An invitation to present a Radio 4 documentary about the Jews of Spain led to numerous series' about early and traditional music, plus Radio 3 regulars like Composer of the Week, CD Review and Morning Performance.
Alongside The Early Music Show, Lucie continues to lead a busy performing life. Highlights include playing on Venice's Grand Canal, singing with the BBC Concert Orchestra to a packed Royal Festival Hall, working in Warsaw on Polanski's 'The Pianist' and performing klezmer to a group of nuns in South America.
Lucie's primary schools book Let's Make Tudor Music (Stainer and Bell) won a TES award, and her book Broadside Ballads (Faber Music) won the Music Industry award for Best Classical Music Publication 2006. Her latest book Singing Simpkin and other Bawdy Jigs (University of Exeter Press, February 2014) is an edition of nine rare musical comedies from the Shakespearian stage. Lucie writes columns for the BBC Music Magazine and Early Music Today. Following the release of her CD of 17th century low-life songs, Penny Merriments (Naxos), the Telegraph dubbed her 'the bawdy babe of Radio 3'.
In what little spare time she has, Lucie enjoys sleeping, watching heavyweight boxing and visiting her 'spiritual home' Brent Cross.