Mrs McCarthy
The Irish parish secretary at St Mary's is also Father Brown's no-nonsense second-in-command.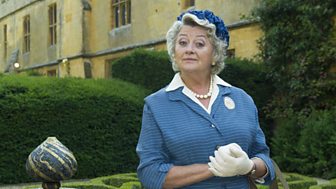 Full of opinions about the shocking state of the nation, she's his ear to the ground on parish events (though rest assured, 'she's not one to gossip') and his confidante on official Church business and everything else. Chief defender of Father Brown, Mrs. McCarthy lives to check facts for him, to protect him from the wrath of the diocese, to make sure he eats…
Sorcha Cusack
Sorcha Cusack is well known as Staff Nurse Kate Wilson in Casualty and from the 1973 BBC adaptation of Jane Eyre. She also played the mother of Mickey, played by Brad Pitt in the worldwide hit movie Snatch. Recently she's appeared in Merlin, Pete Versus Life and Mrs Brown's Boys.