The National Theatre
Arena celebrated The National Theatre's 50th Birthday with two documentaries for BBC Four. Here you can explore more about the theatre and performances past and present with an array of specially made short films and archive clips.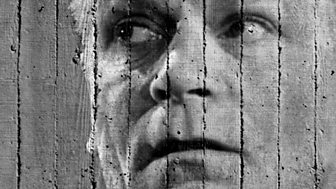 Cut-Up Speeches - Hamlet
To celebrate 50 years of treading the boards at the National we have compiled performances from two of Shakespeare's biggest speeches from Hamlet and Macbeth.
To die, to sleep

Macbeth
It is considered the hi-light of an actor's career to take on the role of Hamlet, one of the most demanding roles in theatre and Hamlet's meditation on life and death, 'To be or not to be,' the most famous of speeches. For an actor preparing for the role the pressure is not eased by the roster of great actors who have played the part over the last 50 years, from Laurence Olivier to David Tennant. We have gone back through the BBC's TV and Radio archives, as well as independent productions, to cut-up the speech across eight great performances, starting in 1948 with Olivier.
Cut-Up Speeches - Macbeth
Hell is murky

Lady Macbeth
Equally challenging is Lady Macbeth's great monologue of remorse as she confesses to the murder of King Duncan while sleepwalking in the night. Lady Macbeth's 'Out damn'd spot' speech is her last before her death, the challenge for any actress playing Lady Macbeth is how to redeem her character in this final scene. Cutting-up this famous scene from 50 years of performances across BBC TV, Radio and independent productions illustrates how Lady Macbeth has been played by Peggy Ashcroft, Judi Dench and Jane Lapotaire with varying levels of sorrow, anger, madness and guilt.
The National Theatre - Learning Zone
We present a selection of films that explore not only how the National Theatre came about but also look at its relevance today.
Two short films on Othello and Hamlet, using both rehearsal and performance footage, consider how the National Theatre takes a contemporary approach to Shakespeare's work.
The importance of attracting new audiences is explored in a short film about the NT's acclaimed staging of Frankenstein. Using rehearsal and performance footage from their version of Frankenstein, the film also considers how they take a classic text to create theatrical events aimed at attracting young audiences.
Finally, we look at the staging of This House, a political, historically accurate play that turns a mirror on contemporary politics. James Graham explains how he researched and wrote the play.
Arena & The National
Arena celebrates the actors, writers and directors associated with the National Theatre

Take a look at the variety of events taking place to celebrate the 50th Anniversary of the National Theatre