Chorus
Find out all about BBC National Chorus of Wales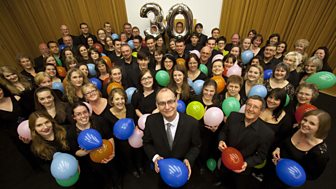 BBC National Chorus of Wales step with ease through stirring choruses, blissful songs and weaving counterpoint

The Times
BBC National Chorus of Wales was formed in 1983, and has developed into one of the leading large mixed choruses in the UK. While preserving its amateur status, the Chorus works to the highest professional standards under its Music Director Adrian Partington, achieving enviable critical acclaim and enjoying a close performing relationship with the BBC National Orchestra of Wales.
The repertoire of the Chorus is large and varied, extending from the Baroque period to the present day. Most of the Chorus's concerts are given at St David's Hall and BBC Hoddinott Hall in Cardiff. The Chorus also performs annually at the BBC Proms; highlights include performances of Havergal Brian's Gothic Symphony in 2011 and Bernstein's Mass in 2012. The Chorus also has an extensive outreach programme, reaching communities across Wales with choral workshops.
The Chorus has made numerous recordings, including a disc of works by Stanford which received a Gramophone Award in 2006. Most recently, the Chorus recorded Sullivan's The Beauty Stone and a CD of choral works by Parry, which was nominated for Best Choral Performance at the 2014 Grammy Awards.
Who's who
Adrian Partington, Director
Adrian has directed the Chorus since 1999. He works regularly with many of the most famous choirs in the UK, including the Philharmonia, the BBC Symphony Chorus, and the London Bach Choir.
Steven Kings, Assistant Director
In addition to his work with the Chorus, Steven Kings performs as a soloist and chamber musician, with a special interest in 20th century music. He is also an acclaimed composer.
Miriam Bowen, Vocal Coach
An accomplished soprano, Miriam Bowen has performed extensively throughout Britain in opera, oratorio and recitals and on radio, television and CD. She has been associated with the chorus since 1997.
How to apply
To apply for an audition with the BBC National Chorus of Wales, please email us with your name and contact details, and details of the music you would like to sing at an audition.