Tina Daheley
Hi, I'm Tina and I'm so excited to be back for the return of Free Speech. I'm the mouthpiece for the masses on social media and this time I want you to be noisier than ever before!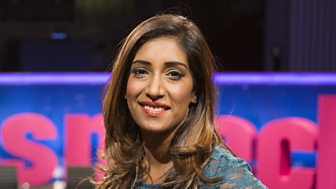 My official title is Interactive Presenter but what I'm really doing is stirring up the live debate with your tweets and Facebook comments. As long as it's not sweary and is YOUR honestly held opinion, chances are I'll say it (I've called out politicians for being bourgeois scum before).
The best part of my job is putting your comments directly to people in positions of power. When I'm not on Twitter and Facebook or firing up my Power Bar (which allows viewers at home to vote in real time on the issues being discussed) you can hear me in the mornings on Radio 1 with the news and sport on The Breakfast Show with Nick Grimshaw.