Uruguay: Enzo Romano
Bass-baritone - born 1980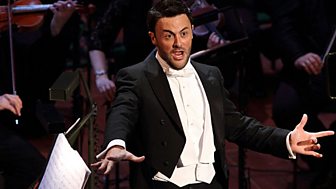 BBC Cardiff Singer of the World competitor
Enzo Romano was born in Montevideo and studied singing and repertoire at the Escuela Nacional de Arte Lírico with Amelia Veiga, and in Argentina with Susana Cardonnet and Cecilia Varela.
From 2006 he studied singing at the Instituto Superior de Arte, Teatro Colón, Buenos Aires with Marta Blanco and Mercedes Alas. He specialises in the buffo and contemporary repertoire. He won the first prize in the 2001 Juventudes Musicales Competition, Uruguay.
In 2009 Enzo was a finalist in the Competizione dell'Opera SemperOper, Dresden and took part in the International Hans Gabor Belvedere Singing Competition, Vienna.
Enzo made his debut in 2002 as Marquis d'Obigny La traviata at Teatro del Sodre, Montevideo, under the direction of Piero Gamba. Other roles include Dulcamara L'elisir d'amore, which he performed at Teatro Municipal de Temuco, Chile. He reprised the role at Teatro Colón, Buenos Aires in 2009, as a result of winning the Teatro Colón competition for young singers the previous year.
In 2010 he sang Don Magnifico La Cenerentola for the Juventus Lyrica Association at the Teatro Avenida, Buenos Aires and at the Teatro Municipal, Temuco. This year he joins the Opera Estudio at Teatro Argentino de la Plata.
In his free time Enzo enjoys learning theatre clown techniques and Tai chi chuan practice.
BBC Cardiff Singer of the World 2011: concert four repertoire
È una cosa incredibile (The Italian Straw Hat) - Nino Rota
Non più andrai (Le nozze di Figaro) - Mozart
Bottom's dream (A Midsummer Night's Dream) - Britten
La calunnia (Il barbiere di Siviglia) - Rossini