Thomas McErlean
Thomas McErlean is a Senior Research Fellow at the University of Ulster. He grew up in the South Derry countryside and has ever since been drawn to the historical mystery around landscapes.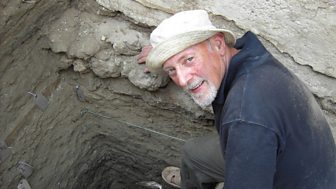 It was a nearby crannog, where Thomas' ancestors once lived, that stimulated his imagination. More than wanting to know how people lived, defended and built on it, he wanted to excavate it. And so his career as an archaeologist began.
Like most little boys I was a keen archaeologist but unlike most of them my interest survived adolescence and I went on to make a career out of it

Thomas McErlean
Thomas' career has taken him to Tasmania where he excavated a penal colony where many Irish men and women suffered and died. He was also part of the team which discovered, in Strangford Lough, the earliest tide mill in the world dating to 619 AD. His main specialism is the Early Medieval period because there is evidence around us in today's landscape - from raths to ruins of the great monasteries - to our townlands. Thomas will join our guest panel discussion at The Great British Story event at Mount Stewart in Northern Ireland.