Nelli Bird
Nelli hails from Caerleon and went to school in Monmouth. She studied for a degree in German at University College London – which included a year living in Hamburg. But her travels have brought her closer to home for her daily show on BBC Radio Wales.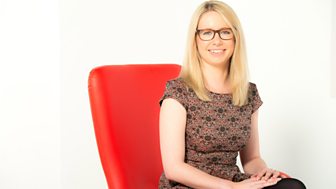 Nelli writes...
"I can't pretend I was one of those people who always knew they wanted to be a journalist. The idea first came to me in my second year of university where I would spend much of my days composing witty and entertaining emails to my friends – they told me I should think about becoming a writer. So I decided that my career of choice would be magazine journalism with the hope of one day becoming a brilliant newspaper columnist.
"It's therefore still a complete mystery to me that, two years later, I decided to apply for a broadcast journalism postgraduate course in Falmouth – but the rest, as they say, is history.
"My broadcasting career got started in commercial radio in Bridgend and Swansea, then I moved to stations in Cheltenham and Bristol. When a job came up as a researcher here at BBC Radio Wales,I jumped at the chance. 2013 marks six years working in the newsroom, whether on the newsdesk or out reporting on stories. I've been presenting Good Evening Wales since the beginning of 2013.
"Good Evening Wales is such a great programme to work on and it's a real team effort. Because of the time of day we are on air, we often have to deal with breaking stories. In the last few months alone, we have had to report and react to the terrorist murder in Woolwich, break news of raids on a Welsh food plant as part of the horsemeat scandal and correctly identify the white smoke coming out of the Vatican when it turned out there was indeed a new Pope. Getting the tone right and dealing with the real mix of stories on Good Evening Wales is the exciting challenge."