Marie-Christine Zupancic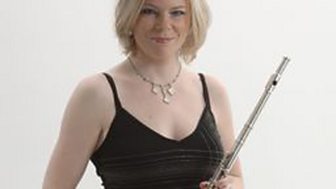 Born in Oberhausen (Germany) in 1979 Marie-Christine Zupancic grew up in the Lower Rhine Area and started playing the flute and the piano at the age of eight. After winning numerous prizes in the German Youth competition with both instruments she studied flute at the conservatoire in Cologne where Robert Winn was her teacher.
Together with fellow students Marie-Christine founded the woodwind quintet "Sponte", and after winning a scholarship, the ensemble went on tour to Chile and China. Marie-Christine was also a prize-winner in several international flute competitions, including Bayreuth, Cracow, Moulins and Cremona.
After graduating in 2003 Marie-Christine won the audition for the Karajan Academy and subsequently played with the Berlin Philharmonic Orchestra for two years. She worked with many distinguished conductors and was particularly influenced by Sir Simon Rattle. Concerts included a tour to America in 2003, the Easter Festival in Salzburg in 2004 and many live television broadcasts.
Marie-Christine started working frequently with the City of Birmingham Symphony Orchestra in November 2005 and joined the orchestra in the position of Section Leader Flute in September 2006. At the same time she became a member of the Birmingham Contemporary Music Group.
Being very dedicated to helping the next generation of musicians on their way into the profession, Marie-Christine teaches at the Birmingham Conservatoire and leads sectional rehearsals for the CBSO youth orchestra.