Katrina Lyndon
Katrina is a part-time dance teacher and the only Ballerina in the competition. She moved to London aged 13 to study at the Royal Ballet School where she won an Ursula Moreton Award for choreopgraphy. She then moved on to train at Central School of Dance to gain experience in other styles.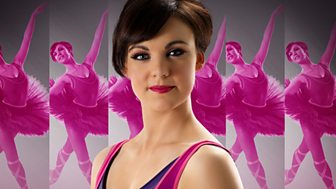 | Fact title | Fact data |
| --- | --- |
| Age | 20 |
| From | Plymouth |
Katrina feels she is "very much against the norm" as not many Ballet dancers would put themselves forward for SYTYCD. She has always loved other styles and found it hard to contain herself at ballet school so now is her time to break free.
Earlier this year, Katrina moved back to Plymouth and started teaching children at her mother's dance school, but she is desperate to get back to London where all her friends live.
Katrina realises she is "too modest" because of her ballet training but plans on being more "sexy". Although she is confident in her ability, Katrina thinks there are girls with bigger personalities on the show.
Katrina calls herself a "scaredy cat" as she refuses to go out alone after dark and is scared of water as she thinks she will drown!
Her friends describe her as "hard working, determined, smiley, very focused but likes to have a giggle".
Katrina's Progress
Showcase Special: Katrina took part in the group opening dance, the Girls' dance and a Contemporary dance with Danielle, Stephanie and Gian Luca.
Round 1: Katrina did a Hip Hop routine with Tom.
Round 2: Katrina did a Broadway routine with Tom.
Round 3: Katrina did a Quickstep with Tom.
Round 4: Katrina did a Hip Hop routine with Tom.
Round 5: Katrina did a Salsa and a Jazz routine with Tom.
Katrina and Tom had to dance for their lives.
Unfortunately, Katrina went home.