Clare Teal
Hear Clare, Sundays 9pm-11pm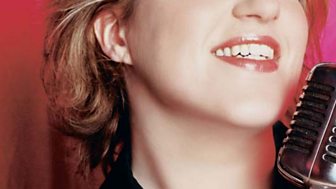 Yorkshire born Clare Teal is one of the most successful British jazz singers in decades with a string of albums behind her, including the UK National Top 20 hit "Don't Talk". She won British Jazz singer of the year in both 2005 and 2007 and BBC Jazz singer of the Year in 2006. Clare has performed with artists including Jamie Cullum, Katie Melua and Liza Minnelli, has been a guest of the BBC Concert Orchestra on "Friday Night Is Music Night", and appeared at this year's 2-Day event in Hackney. Her latest album, "And So It Goes" is a pared down offering featuring Clare's beautiful vocals and her musical director Grant Windsor at the piano.
My favourite Big Band track:
"Let's Do It (Let's Fall In Love)" - Duke Ellington & Ella Fitzgerald, Stockholm Concert 1966.
 This amazing record sums up everything I love about music in just over 4 minutes - POW! Here's why...
1. It is written by my all-time favourite songwriter: the witty, sophisticated and urbane Cole Porter (originally from Sheffield and named after his father's profession…or possibly not!) 
2. It is sung by the greatest jazz singer there ever was: Ella Fitzgerald.
3. It is played by the daddy of all big bands: Duke Ellington.
4. It's live - proving that you just can't fake the real thing.
5. In short - it's ace.
My most played album:
Other than my own albums (JOKE) this is impossible to answer, my friend, as there are so many incredible big band and swing albums out there. But, as you've asked, I recently had to replace my copy of Count Basie's "The Atomic Mr Basie". Whether it was from overplaying or possible nuclear meltdown - I'm not sure…
The concert I wished I'd been to:
So many to choose from! I'd have given my right arm (had I been born) to see Ella and Duke Ellington in Stockholm in 1966. Another seminal series of concerts took place between July 18th - July 21st 1963 at Copenhagen's famous Tivoli performed by Sarah Vaughan and trio who totally rocked (or jazzed) the place.
My favourite Big Band Leader:
Duke Ellington. His career spanned half a century and sounded fresh, modern and flippin' brilliant at every single stage of it.
My radio hero:
I loved David Jacobs' presenting style, so warm and inviting. I'm also a big Ken Bruce fan too - he's a total master of witty, off-the-cuff commentary and talking to time in any environment on any subject.
I also have a massive amount of love and respect for some of the regional DJs I've got to know over the years - chaps like Harry King on BBC Radio Cumbria and John Hellings on BBC Hereford and Worcester. They are huge supporters of jazz and big bands, live music and most importantly - live musicians!