Pat Archer
Always ready with a kindly-meant word and a hearty stew, Pat is a hard-working farmer and a protective mother and grandmother.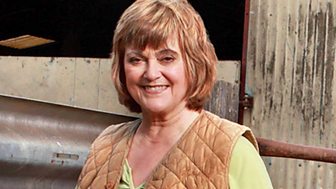 | Fact title | Fact data |
| --- | --- |
| Played by: | Patricia Gallimore |
| Born: | 10 January 1952 |
| Status: | |
| Occupation: | Farmer / dairy entrepreneur |
| Lives at: | Bridge Farm |
Anyone for more lentil bake?

Pat Archer
Patricia Gallimore's thoughts on Pat
Hard working, long- suffering, loyal; sometimes bossy!
Patricia Gallimore
Patricia Gallimore won the Carleton Hobbs award in 1965 from the Birmingham School of Speech and Drama, and her career began with a six month contract with the BBC Radio Drama Company.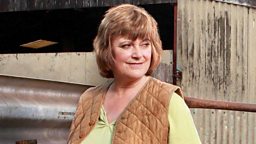 She remained in London for the following eight years, working mainly in radio. She played leading roles in many classic serials and plays for BBC Radio, and did another two year contract with the BBC Radio Drama Company. She was also a regular character in Radio 2's Waggoner's Walk.
In 1973 she married Charles Gardner, a lawyer based in Birmingham, and returned to the Midlands to live in Warwickshire.
In 1974 she joined the cast of The Archers and later the same year Pat Lewis became Mrs Tony Archer.
As well as The Archers she continued to work regularly in radio and other audio work, with occasional TV appearances. In the early 90s she began recording audio books for several different companies and has now notched up over 200 unabridged audio books.
She has two grown up children, Tom born in 1977, and Harriet born in 1982. They both live in London. Tom's daughter Ella was born in August 2009, and Pat became a besotted first-time granny.
Archers highlights
Pat and Tony converting Bridge Farm to organics. It led to my going to many events and getting to know real life organic farmers and producers, many of whom have remained good friends.
It also led in 2000 to my book Patricia Gallimore's Organic Year. The research included visits to both Highgrove and HRH The Prince of Wales's Duchy Home Farm, as well as many other beautiful farms and gardens throughout the UK.
Other career highlights
Getting asked to record my first audio book was a big turning point. I love the variety and scope an actor gets with the many and varied titles we are asked to record. In 2008 I won an Earphones Excellence award for recording Queen Camilla by Sue Townsend.
My first audio book was a big turning point

Patricia Gallimore
Favourite radio roles have included Fleur in The Forsyte Saga and Flora in Cold Comfort Farm.
Favourite
Actor - Judi Dench. She's just astonishingly good.
Book - Rebecca by Daphne du Maurier. I can re-read it and always recapture its magic.
Film - Gone with the Wind. Four hours of absolute escapist indulgence and romance.