Kate Madikane
Kate has spirit, spark and courage, but these qualities can spell as much trouble as they can success.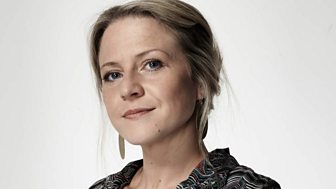 | Fact title | Fact data |
| --- | --- |
| Played by: | Kellie Bright |
| Born: | 30 September 1977 |
| Status: | Married to Lucas Madikane |
| Occupation: | Voluntary worker (AIDS orphanage) |
| Lives in: | Durban, South Africa |
Never one to shy away from a challenge, she has always flouted convention, diving into protest rallies, exotic foreign adventures and stormy relationships with equal fervour.
From her teenage years when she was expelled from school right up to the present day she has never run with the crowd.She basically abandoned her eldest daughter into the care of her then very young father Roy Tucker. Her subsequent occasional visits to Ambridge have always disrupted what would otherwise be a very happy life for Phoebe.
When she returned for a year to study International Development at Felpersham University (2010-2011), the disruption grew to family-rocking proportions.
You people! You're so... English!

Kate Madikane
Likes - Travel, veggie food
Dislikes - Convention
Highs - Marrying Lucas. The effect that his being a black South African had on her conservative family was a bonus.
Lows - Her potentially disastrous flirtation with drug culture in 1995
Key relationships
Roy Tucker (Babyfather) - They had Phoebe when both were just out of school
Hayley Tucker (Foe) - While Roy tries to compromise with Kate, his wife Hayley has no time for her at all
Lynda Snell (Friend) - an unlikely pairing, but it's always worked
Kellie Bright
Kellie joined The Archers in 1994. Although Kellie herself was new to The Archers, the character wasn't, as another actress had previously played the part. Kellie had worked on radio before in various plays, but this was by far the most significant role of her young career.
She played Kate continuously for the next five years, before Kate's departure to South Africa. Since then, Kellie has been fortunate enough to visit Ambridge as Kate numerous times and she hopes this will always be the case. She is proud to have been part of the Archers team for so long.
Kellie lives in London with her boyfriend.
Archers highlights
Something I will never forget is going to Glastonbury Festival to give birth to my first child, Phoebe. We recorded on the day of transmission and it was my first experience of a music festival, let alone Glastonbury.
Such a fantastic part and a truly brilliant script written by John Sullivan

Kellie Bright
We recorded the birth scene in a real tepee and I used a rolled up (and rather muddy!) towel as "Phoebe". It was a wonderful day and I still own a funny little hippy hat that I bought there.
Other career highlights
I am fortunate enough to have too many to list, but I played Joan Trotter in the Only Fools and Horses prequel called Rock and Chips. Such a fantastic part and a truly brilliant script written by John Sullivan, plus working with a wonderful cast and all set in 1960 – so fabulous costumes to boot!
I am also a huge lover of working in the theatre so I have to mention playing Regan in King Lear at The Globe in 2008. A dream come true.
Kellie on Kate
Kate could be described as headstrong and selfish with a rebellious streak. But I like to think of her as a revolutionary. Kate may not always make the right choice as far as other people are concerned, but she is brave enough to stand by her convictions and do what she believes needs to be done. I admire her for that.
Favourite
Actor - Mark Rylance. His talent is beyond anything else I have ever encountered. If you have the opportunity to see him on stage, go! I also feel it is only fair to mention a favourite actress as well… so, I'm going to mention two as I can't choose between them! Lesley Sharp and Helen Mirren. Need I say more?
Book - Lord Of The Flies by William Golding. I discovered it in my childhood and I've read it many times since. Just extraordinary.
Film - Baz Luhrmann's Romeo and Juliet. For me it has everything, combining the beauty of Shakespeare's language with Baz Luhrmann's groundbreaking direction. It also happens to be the greatest love story ever and as a true romantic that appeals to me