Kate Madikane
Kate has spirit, spark and courage, but these qualities can spell as much trouble as they can success.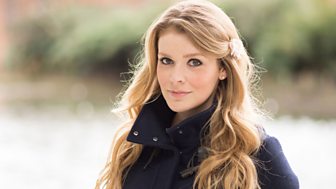 | Fact title | Fact data |
| --- | --- |
| Played by: | Perdita Avery |
| Born: | 30 September 1977 |
| Status: | |
| Occupation: | Former student turned businesswoman |
| Lives at: | Home Farm |
Never one to shy away from a challenge, Kate has always flouted convention, diving into protest rallies, exotic foreign adventures and stormy relationships with equal fervour.
From her teenage years when she was expelled from school, right up to the present day, she has never run with the crowd. She basically abandoned her eldest daughter into the care of her then very young father Roy Tucker. Her subsequent occasional visits to Ambridge have usually disrupted what would otherwise have been a very happy life for Phoebe.
When Kate spent a year studying International Development at Felpersham University (2010-2011), the disruption grew to family-rocking proportions. When she returned at the end of 2014 to enrol for the advanced diploma, she soon had to confess that is was because her marriage had collapsed after an affair - not her first, it had to be said...
You people! You're so... English!

Kate Madikane
Likes - Travel, vegan food
Dislikes - Convention
Highs - Marrying Lucas. The effect that his being a black South African had on her conservative family was a bonus.
Lows - Her potentially disastrous flirtation with drug culture in 1995. Separating from Lucas and possibly losing access to her children in South Africa.
Immediate family
In South Africa:
Lucas Madikane (Husband - separated)
Sipho Madikane (Son)
Noluthando Madikane (Daughter)
Key relationships
Roy Tucker (Babyfather) - They had Phoebe when both were just out of school
Hayley Tucker - While Roy tries to compromise with Kate, his wife Hayley has no time for her at all
Lynda Snell (Friend) - an unlikely pairing, but it's always worked (both feel unappreciated by uncreative people)
Perdita Avery
Perdita was born in Gloucester and from an early age showed a huge interest in the arts. Hours would be spent playing the piano with her Father, enjoying classic films with her mother, singing, dancing, pretending to be as grown-up as her older brother and sister, travelling around the world, and trying to work out how to become a real-life Disney princess.
She moved to London to study acting at drama school and was thrilled to graduate with a first class honours degree. She was incredibly fortunate to have two television jobs waiting before completing the course and she hasn't looked back since.
Perdita has enjoyed performing on stage, television, film, radio and voice-overs.
Her West End Theatre credits, which happen to have all been at the Vaudeville Theatre, include: Noel Coward's world premiere of Volcano, Woman in Mind, written and directed by Alan Ayckbourn, and Swimming with Sharks starring Christian Slater.
She has also played Bianca in The Taming of the Shrew at Derby Theatre and performed in Woman in Mind at the Stephen Joseph Theatre, Scarborough.
Perdita's TV work includes Father Brown with Mark Williams, Micro Men with Martin Freeman and Alexander Armstrong, Silent Witness, Midsomer Murders Christmas Special, Moving Wallpaper with Ben Miller, Ashes to Ashes, Skins, and My Hero with Hugh Dennis.
Films include London Wall, Air Tribulation and the Oscar nominated Kon Tiki.
Radio plays include Number 10, Exodus169, Armadale and Septimus Greabe, all for BBC Radio 4, directed by Clive Brill. She has also voiced many television commercials, including Schwartz, Fairy and Kuoni.
Perdita was married in 2014 and lives in London with her husband Mark.
Archers highlights
I'm relishing every second of getting to work with these wonderful people

Perdita Avery
Everyone has been so welcoming and it was such a thrill to meet all the people behind those incredibly familiar voices. Although I'm still a newbie, I'm relishing every second of getting to work with these wonderful people and am thrilled to be part of the Aldridge clan.
Other career highlights
Working with the brilliant and lovely Alan Ayckbourn in his revival of Woman in Mind. Only a few years earlier, I'd been studying his plays and couldn't quite believe I found myself in a rehearsal room with him.
Also, the treasured and eclectic bunch of friends you make along the way.
Perdita on Kate
It's an exciting challenge playing Kate, because it's virtually impossible to understand her attitude or to like her, but I think those are always the most fun parts to play.
She offers no apology, is entirely selfish, easily bored, astonishingly thinks she's an excellent and laid-back mother, is careless and rude and a terrible role model.
She has an uncanny knack of getting everything wrong as she bulldozes through people's lives, But underneath, deep, deep down, I think she's got a good heart and just wants to be accepted.
Favourite
Actor - Too many to pick just one …. Paul Newman and Grace Kelly for old-school elegance, beauty and glamour. Also, Emma Thompson because she's utterly brilliant and extremely intelligent.
Book - East of Eden by John Steinbeck. My Father gave it to me as a birthday present and it is the most extraordinary book I've ever read. I couldn't leave it alone. I loved every single page. It's so gripping, funny, and the characterisation is exquisite. Cathy is the most unnervingly evil character I've ever put on my bedside table.
Film - Seven Brides for Seven Brothers. This film is where it all began for me. I used to watch it non-stop with my mother, sing all the songs and try to do the barn dance. I once heard her saying on the phone when I was very young that I had watched it so many times I was virtually in it. That made me realise they were real people 'acting' and if those real people could be in films … maybe I could.
I'd still like to...
… have a little family of my own, because I'm a real family girl.
Professionally, I'd love to act on Broadway. Acting and being in New York… it couldn't get better than that. Unless I could cast all my friends in it, too.