Panjabi Hit Squad
Panjabi Hit Squad have been right at the forefront of British-Asian music since their formation in the summer of 2001.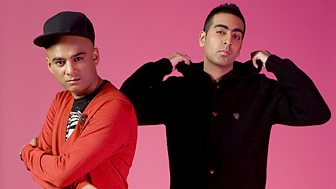 The Southall based DJ/Producer collective (Dee, Rav, Markie and Amo) were originally separate entities in the UK's vibrant Bhangra club scene, but decided to join forces to create a new genre that fused Bhangra with Urban Street music,'Desi Beats'.
By 2002 Panjabi Hit Squad were already succeeding in their bid to build bridges between 'Desi Beats' and the urban Black music scene, resulting in a signing to Def Jam UK and productions with Sway, Taz, Mariah Carey, Beenie Man, Ashanti and Bobby Valentino. Jay-Z also used their sound for the track 'Higher'.
The Squad were part of the original launch line-up of BBC Radio 1Xtra and won the 'Best Specialist Radio Show' at the Asian Music Awards in 2004 and in 2005, shortly after releasing their debut album 'Ladies First' with Ms Scandalous.
In 2006, members Markie and Amo left the group and saw Dee and Rav signing artist Alyssia . They released the hit track 'Pyar Hogiya', creating the genre 'Bollyhood', a fusion of Bollywood and urban beats. Riding on their success, they were approached by BBC Asian Network and joined the station in 2007.
Away from presenting Dee and Rav continue to be ambassadors of Desi and Bollyhood beats. They have collaborated with Jay Sean on the remix to 'Ride It' and Raghav on 'My Kinda Girl'. Their song "Kuriyeh" appeared in the 2008 Hollywood film, The Accidental Husband. In an article in Music Week magazine, Panjabi Hit Squad were named amongst the top 10 UK Urban DJ's.