Gold
New Romantics become true Thatcherites!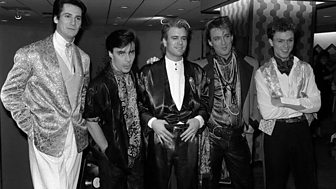 | Fact title | Fact data |
| --- | --- |
| First recorded: | 1983 |
| Written by: | Gary Kemp |
| First recorded by: | Spandau Ballet |
Synopsis
These days you're more likely to hear this Spandau Ballet chestnut as the soundtrack to some sporting triumph or Olympic montage on your television. But in 1983 it was everywhere. In the same way that Duran Duran had progressed from headscarves and eyeliner to Antony Price suits, yachts and videos in Sri Lanka, so 'The Spands' had moved on from their idiosyncratic New Romantic kilts 'n' lace to something that looked and sounded a little more polished. Designed to sell in millions.
You've got the power to know you're indestructible

'Gold'
Taken from the band's biggest recorded triumph - the album True – here were the darlings of London's hippest clubland becoming international currency. Their new, smoother sound (provided by the production team of Jolley and Swain) was perfect for backing the equally suave voice of Tony Hadley. And like the aforementioned Duran Duran, the video for 'Gold' saw the band chasing cryptic treasure in exotic locations (in this case Carmona, Spain: accompanied by a gold-painted nymph, played by a young Sadie Frost).
Just as the early '80s ushered in the materialism of Thatcherism, so our pop stars could suddenly look (and behave) like young bankers. Suddenly it was cool to flaunt success; to be aspirational. The title says it all, really…
And if you examine Gary Kemp's lyrics it soon becomes that 'Gold' is a triumph of style over substance. They're cryptic to the point of pointlessness, but still manage to project the twin ideas of success and achievement. Whereas Roxy Music (who were surely the template for Spandau Ballet) had used suits, sophistication and a swooning sax to imply a certain irony, the Kemp brothers and co were unapologetic about the lifestyle they aspired to. It was romantic, to be sure. But it was romance at a high price…