Roddy Hart
Roddy Hart presents BBC Radio Scotland's Thursday evening music show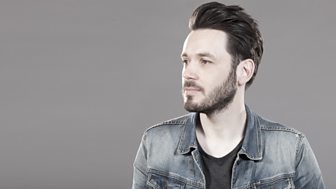 Roddy Hart is a Scottish singer/songwriter who has released three solo records – Bookmarks (featuring guest performances from Kris Kristofferson and Eddi Reader), Sign Language, and Road Of Bones – and The Dylan EP with Mercury nominated artist Gemma Hayes. His most recent album – Roddy Hart & The Lonesome Fire – released in 2013, is the first with his seven-piece band The Lonesome Fire and was produced by Coldplay producer Danton Supple.
Roddy was responsible for curating Forever Young: A 70th Birthday Tribute To Bob Dylan for Celtic Connections 2011, a gala concert featuring artists such as Rosanne Cash, Thea Gilmore, and Josh Rouse, and broadcast by Radio 2 and Sky Arts. This was followed in 2012 by his work for the concert in honour of the late Gerry Rafferty, which was broadcast on Radio 2 and BBC4.
Most recently for Celtic Connections 2013 he curated The Roaming Roots Revue – a night in the spirit of Levon Helm's Midnight Rambles and featuring Beth Orton, The Low Anthem, LAU and many more. He has performed for the Queen at the Scottish Parliament, toured all over the world, and played with artists such as Wilco, Kris Kristofferson, Ray LaMontagne, John Prine, Ray Davies, Jeff Beck, and others. He has a show on BBC Radio Scotland every Thursday night from 10.05pm featuring new directions in folk rock and Americana.
Roddy's Thursday night show on BBC Radio Scotland features a new and special mix of music, from classic Americana to new directions in folk-rock, alongside regular features "Record Of Note", "Undercover" and "Live On Arrival".