Minty Peterson
Minty was a big softy, especially where the ladies were concerned, but he could be hard as nails when necessary.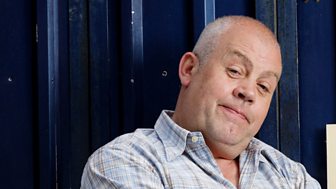 | Fact title | Fact data |
| --- | --- |
| First appearance: | 11th March 2002 |
| Last appearance: | 21st September 2010 |
| Occupation: | Mechanic |
He was a close mate of Phil Mitchell, so knew how to pack a punch. He might look all laughter and joy but there was more to Minty than met the eye.
Will there be girls there?

Minty Peterson
He'd got more in common with bad boy Phil Mitchell than the same hair stylist - they used to be tight back in the day so Minty never had to worry about getting some respect round Walford way.
Minty mellowed with age though. He struck up a bromance with fellow mechanic Garry Hobbs when the pair worked at Mitchell's Autos and they developed a reputation as Albert Square's laddish double act.
Their love of West Ham United and a lager down the Vic made them the ideal flat mates, even if sometimes it came at the expense of their love life.
Hapless Minty was never lucky in love - Aussie SJ was using him for money, fiancé Hazel left him when she hit the menopause, Heather loved him but he only had eyes for Sam Mitchell who was prepared to string him along as long as it was worth her while.
In 2010, he left Walford to be with his one true partner in life - Garry.
Played by Cliff Parisi
Find out more about Minty's Walford connections and play quizzes and games in our family tree.