Brian Matthew
Brian Matthew presented Sounds of the 60s from 1990 through to 2017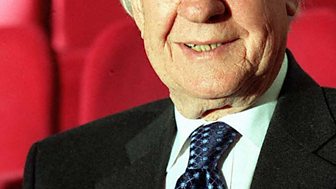 Brian Matthew started broadcasting in 1948 in Germany, and trained as an actor at RADA before joining the BBC in 1954. He has a great love of the theatre and has performed in many well-known venues. He even has his own 50-seat studio theatre in his home.
He was one of the first DJs on Radio 2, and hosted shows such as 'Saturday Club', 'Thank Your Lucky Stars' and 'Late Night Extra', but he is probably best known for presenting the long-running 'Round Midnight' programme which won the 1987 Pulitzer Publishing Award.
Brian presented 'Sounds of the Sixties' (winner of a Gold Sony Radio Award in 1996) from April 1990 through to 2017, when he stepped down from presenting the show. Lewis Carnie, Head of Radio 2 says of Brian: "Brian is an outstanding presenter and, at 88, a radio legend. He has made the programme his own with natural ability, passion and warmth and we are incredibly grateful for everything he has done for Sounds of the 60s".
In 1990 he received a Broadcasting Press Guild Award for Outstanding Contribution to Radio.