Zinnie Hassoun
Manipulative and spoilt, Zinnie is a young woman who knows how to get her way and doesn't mind trampling on others to get it.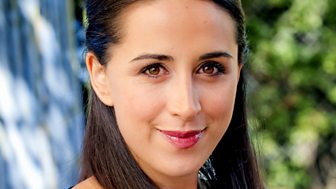 Brought up in a wealthy family, money was no object for Zinnie and she spent her childhood being lavished with expensive gifts but emotionally overlooked by her parents. As a result she had a spiteful streak but also a hidden vulnerability.
Academically bright, Zinnie applied to Cambridge University and got in but created bad blood between herself and her parents when she decided not to go. Her family shipped her off to Glasgow to stay with her aunt Leyla but, from the off, Zinnie caused trouble at every turn.
She finally settled in Shieldinch but working in the mini market wearing a tabard every day wasn't the lifestyle Zinnie aspired to. So when former schoolfriend turned escort entrepreneur, Pippa Ballantyne offered her an opportunity to make a lot of money, Zinnie's head was turned.
However, her one-off escorting experience with Alex McAllister proved disasterous when she blurred the lines between business and pleasure, assuming it was a relationship in the making. Spurned by Alex, Zinnie's head was turned by his younger brother Jamie. But despite there being an undeniable spark between the pair, their relationship took a sinister turn when he raped Zinnie, leaving her devastated.
The court case took its toll on Zinnie but justice was served when Jamie was jailed for rape. Now faced with rebuilding her shattered life, Zinnie is hopeful the future will bring her the happiness which she so desires.
Nalini Chetty
Nalini plays Zinnie Hassoun in River City.
Joined River City - 2010
From - East Lothian
Star sign - Libra
Loves - Being an auntie
Hates - Horror films
TV Treat - Game of Thrones or Modern Family