Loretta Maine
The tousled-hair, mascara-smudged songstress is back!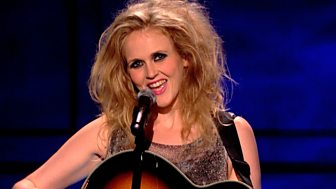 After her show-stopping performances on Live at the Electric series 2, tousled-haired mascara-smudged songstress Loretta Maine returns with two more unhinged glimpses into her off-kilter psyche – White Wine Witch and Love Is Like A Box.
Loretta Maine is portrayed by Pippa Evans who has received two Chortle Award nominations and was winner of the if.comedy Best Newcomer award in 2008.
Pippa has appeared in the BBC Two improv comedy show Fast and Loose, The Morgana Show and is a regular cast member of NewsJack on Radio 4 Extra, as well as being a core member of the award winning Showstopper! The Improvised Musical.