Katy B
Katy B mentors a group of young Derry-Londonderry musicians to perform to their full potential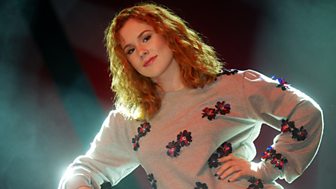 Music City Mentor Katy B
Pop star Katy B, known for hits such as Broken Record, Lights On and 5AM, is the young people's mentor for Music City.
Katy B - aided by Derry-based singer and guitarist Glenn Rosborough and local harpist and music teacher Jenny Grant - puts her experience in the music industry as a successful performer and hit-maker to good use. Katy gives each young person a challenge to help take them to the next step of their musical journey and bring their talents to the fore.
Katy B is no stranger to the music scene herself. Having firmly cemented herself into the UK garage scene and finding her music reaching the upper echelons of the charts, it is hard to believe that Katy B (Kathleen Anne Brien) is only 24 years old. Born in Peckham in 1989 she later found herself as a graduate of The BRIT School for Performing Arts & Technology.
It was at the BRIT School that Katy got her first opportunity to put herself on the musical map after she used the school's studio to make some demos that in turn drew some attention. Before she released her own album she featured on the house music anthem 'Tell Me' by DJ NG, although at this time she was performing under the name Baby Katy.
Her performance on 'Tell Me' created a lot of buzz within the industry and in particular it garnered the attention of producer Geeneus. Even at this early stage it was clear that Katy's lyrics married with her voice provided the potential for chart success. Katy first started recording tracks for her debut album in 2007 and continued writing and recording until the later end of 2010, and while the music was created by the likes of Geeneus, Zinc, Benga and Benny Ill, the song writing was all undertaken by Katy.
The end result was the release of her debut album 'On a Mission' in 2011 and was well received by music critics with the personal experiences that Katy had written into her songs receiving special mention. The 2011 Mercury Prize nominated album housed some of the most memorable chart songs of the last few years with the likes of lead single 'Katy on a Mission' and 'Lights On' which featured Ms Dynamite. Her follow up album is due in 2014 and will be titled 'Little Red', and the two lead singles 'What Love is Made of' and '5am' have been both released and saw chart success.