Paranoid
The greatest riff of all time?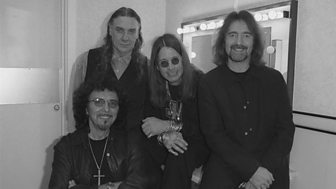 | Fact title | Fact data |
| --- | --- |
| First released: | August 1970 |
| Written by: | Geezer Butler, Tony Iommi, Ozzy Osbourne, Bill Ward |
| First recorded by: | Black Sabbath |
| Cover versions by: | The Dickies, The Meteors, Avenged Sevenfold, Megadeth, The Dillinger Escape Plan, Bellestar |
Synopsis
These days regarded as a paragon of what a 'heavy metal' song should do, Sabbath's hit single from their second album (yes, it got to number four in the UK charts in 1970) may have been popular amongst the fans, but fell foul of critics of the time. Robert Christgau of The Village Voice famously described the parent album of the same name thus: "They do take heavy to undreamt-of extremes, and I suppose I could enjoy them as camp, like a horror movie - the title cut is definitely screamworthy."
People think I'm insane because I am frowning all the time

'Paranoid'
While arguments rage about who produced the first example of heavy metal (experts seem to vacillate between The Kinks' 'You Really Got Me', Iron Butterfly or Blue Cheer) Black Sabbath certainly spring to mind as prime exponents of the genre in its fully fledged power chord-churning, monolithic majesty.
Their first self-titled album had laid the bludgeoning template for everything to follow: Lyrics dealing with insanity and Satanism by bass player Terence 'Geezer' Butler; powerhouse drumming by Bill Ward and the dark riffs of Tony Iommi, all topped off by Ozzy's wailing. 'Paranoid' has all these trademarks, only turned up to 11.
Recorded as a last minute addition to the album due to a lack of new material, 'Paranoid' eventually became the album's title, replacing the originally mooted 'War Pigs': hence the strange porcine-faced man in a crash helmet and pink leggings wielding a scimitar on the cover. Its simple chugging riff drives a lyric that never once actually mentions the word 'paranoid', although they certainly do sum up the state of mind. Guitarist Iommi once famously said that both he and Osbourne had no idea what the word even meant at that time.
No matter: for 'Paranoid' remains the place when the UK were properly introduced to a genre that may have oft been ridiculed, but has proven to be more resilient than just about any other that's been in the charts. Just like the band that spawned it…
Plenty of metal tributes, but also some loungecore, folk, americana and even a lullabye version!