Essential Mix Of The Year 2012
It's Essential Mix Of The Year time again!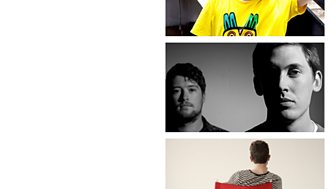 This year's winner will be picked by a panel of judges, including Pete Tong and producers of the Radio 1 Friday Night Dance Music Marathon shows.
The judges have shortlisted five Essential Mixes which were all broadcast between January 1st and December 8th 2012, including tonight's Calyx & Teebee mix which the panel has already heard. Next week's Eats Everything's Essential Mix will be eligible for next year's vote. The judges will pick a 'winner' from this shortlist;
Nicolas Jaar
Nicolas Jaar Essential Mix teaser

Rustie
Rustie 60 second essential mix

Dusky
Dusky talk about their essential mix

Lee Foss
Lee Foss talks about the inspiration behind his essential mix

Calyx & Teebee
Calyx & Teebee talk about their essential mix

The standard of mixes was extremely high in 2012 and it was a tough task picking out five mixes! However, the judges thought that the shortlisted mixes really stood out for their creativity, distinctiveness and track selection.
You'll be able to hear The Essential Mix Of The Year 2012 on Friday December 21st at 1am on BBC Radio 1.
Do you agree with our list? Let us know what your favourite Essential Mix of the year was and why it was your favourite. Tell us on twitter using #essentialmixoftheyear or post your thoughts on our facebook page.