Dwayne Myers
Dwayne's been around a while and seen a lot of things. As a result, there's no one better to help the team with insider knowledge of the local island community.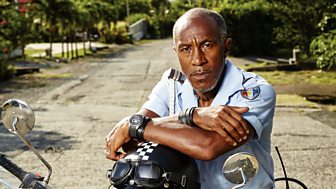 Dwayne knows the island of Saint-Marie better than anyone. He is connected to everywhere and everyone – and if you want anything got for you, he's the man to get it. His detection methods are a little dubious and sometimes his means to solving a crime are questionable. But he does draw the line at out-and-out criminality. Or so the rest of the team hope. He may be the maverick on the team, but they wouldn't be the same without him.
About Danny John-Jules
Born in London to parents from Sierra Leone, Danny is a British actor, singer and dancer.
Since training at the Omnibus Theatre Company and Anna Scher Children's Theatre, Danny's has appeared in a string of theatre productions including Night and Day at the Watford palace Theatre, Carmen Jones at the Crucible Theatre, Sheffield, and Destry Rides Again at the Donmar Warehouse.
In 1994, he played 'Avery' in The Piano Lesson and 'Mac' in The Playboy of the West Indies, before going onto appear in The Rover at Jacob Street Film Studios. Danny has also appeared on London's West End in Barnum at the London Palladium, Cats at the New London Theatre and Time at the Dominion Theatre.
Danny's early television credits include Harry Carpenter Never Said It Would Be Like This (1982) and Three of Kind (1981-1983). He is best known for his portrayal of 'Cat' and Cat's geeky alter ego Duane Dibbley in the comedy series Red Dwarf.
Danny has also appeared in films such as Seven Green Bottles (1975), The Grind (2008), Sucker Punch (2008) and Blade II (2002).