Simon Mayo
Simon presents Drivetime, weekdays, 5-7pm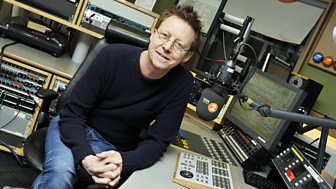 He can also be heard chatting about films with Mark Kermode on Fridays, 2pm to 4pm on BBC Radio 5 live.
Previously Simon worked on BBC Radio 5 live's afternoon show between 2001 and 2009. This followed a successful 15-year career on BBC Radio 1, which included presenting the breakfast show between 1988 and 1993.
Simon's TV work has included presenting Top Of The Pops, the dilemma show Scruples and live Academy Award nominations for the BBC News channel.
During his career, Simon has won a clutch of awards, including a Sony Radio Award in 2009 with Mark Kermode for the BBC Radio 5 live Film Review, the Sony Radio Speech Award at the 2008, as well Broadcasting Press Guild's Radio Broadcaster of the Year in 2008.