Joe Wicks
When Joe turned up looking for his dad, he was the last person David Wicks wanted to see. He'd just started to accept him when Joe started acting strangely.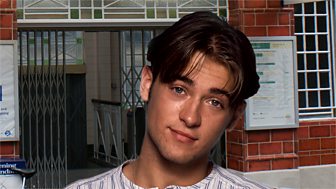 | Fact title | Fact data |
| --- | --- |
| First appearance: | 25th March 1996 |
| Last Appearance: | 14th November 1998 |
| Occupation: | Student |
Pretty boy Joe Wicks was a tormented soul. In search of his errant father David Wicks, he left Bolton and ended up in Albert Square - only to be rejected yet again by his dad.
He's the evil one.

Jamie Mitchell
Strangely enough, ladies' man David was more receptive to the idea of having young Joe in his life once his leggy mum Lorraine joined him in Walford…
However, damaged Joe's new life in London couldn't make up for the scars of the past. Traumatised by the loss of his sister Karen and battling incipient schizophrenia, Joe attempted suicide, and battled for his sanity - at one point even hiding Auntie Nellie's dead cat Mandoo in a box in his bedroom.
As serious as his condition was, Joe also had another very important function, which was to hang around the Square looking troubled and handsome. In spite of his personal struggles, Joe still attracted the ladies, briefly getting engaged to Sarah Hills.
A one night stand with second cousin Mary Flaherty was too much for him, however. In his vulnerable state, he and mum Lorraine beat a hasty retreat back to a calmer life in Bolton.
Played by Paul Nicholls