Paige Smith
Disco dancing champion Paige lives with her mother and sister. Her mother is her biggest fan and accompanies her wherever she goes, so coming down to perform on SYTYCD in London is a daunting and exciting prospect for Paige.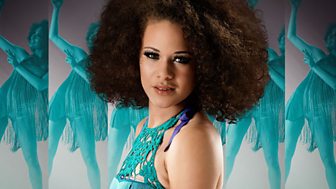 | Fact title | Fact data |
| --- | --- |
| Age | 18 |
| From | Wolverhampton |
Paige says "I can be very shy but I come out of myself when I dance so I will hopefully be the dark horse of the competition."
Although she began Disco dancing aged 7, SYTYCD was the first major audition for Paige who has never worked professionally. She is currently studying a BTEC at Walsall College and would ideally like to do a degree so she can teach in education.
Paige has many titles to her name including European Champion in Disco Freestyle and Rock and Roll, British Isles Champion and the all-England Champion amongst others.
Paige knows the standard is very high this year, she "couldn't believe the talent that went out in the first round" and hopes to rely on her passion to get her through. She has been practising dancing in heels as she realises this was a weakness of hers in Choreography Camp.
Paige's Progress
Showcase Special: Paige took part in the group opening dance, the Girls' dance and a Broadway and Tap dance with Lee, Matt, Tom and Charlotte.
Paige did a Jazz routine with Gian Luca.
Paige and Gian Luca had to dance for their lives.
Nigel said it was a unanimous decision - Paige went home.