Rubbernecker by Belinda Bauer
Featured on Simon Mayo Drivetime, 28 January 2013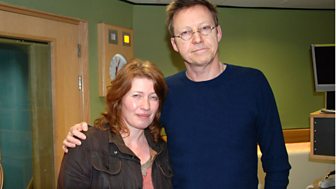 Simon's interview
Listen to Simon chat to author Belinda Bauer about Rubbernecker
About the Book

'The dead can't speak to us,' Professor Madoc had said.
But that was a lie.
Because the body Patrick Fort is examining in anatomy class is trying to tell him all kinds of things.
Patrick has been on the outside all his life. Thoughtful, but different, infuriating even to his own mother, his life changes when he follows an obsession with death to study anatomy at university. Upon uncovering a crime that everybody else was too close to see, he must stay out of danger long enough to unravel the mystery.
But as Patrick learns one truth from a dead man, he discovers there have been many other lies rather closer to home...
About the Author

Belinda Bauer burst onto the crime scene in 2010, scooping the CWA Gold Dagger for Best Crime Novel of the Year with Blacklands - the first debut to win this award since 1973.
Belinda grew up in England and South Africa and now lives in Wales. She has worked as a journalist and screenwriter and her script The Locker Room earned her the Carl Foreman/Bafta Award for Young British Screenwriters. Rubbernecker is her fourth novel.