The 25th International Radio Playwriting Competition 2016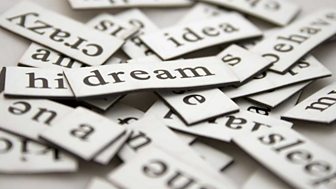 Winners' Broadcast
On Saturday 21st January 2017 you can hear the first of our two winning plays in the 25th BBC World Service/British Council International Playwriting Competition.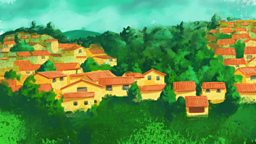 Artwork by Jacob Philips
'The Day Dad Stole a Bus' by Brazilian writer Pericles Silveira, will be broadcast on BBC World Service, with Canadian Joanne Gutknecht's 'Playing with Fire' following on 18th February.
The Day Dad Stole A Bus – Pericles Silveira
Nayara's Dad wants her to see her Grandmother's house in Bento Rodrigues, Brazil, years after a dam disaster destroyed the village. But why has he stolen a bus to take her there? And why do things keep disappearing?
Tune in on Saturday 21st to find out!
Starring Stephen Tompkinson, Wunmi Mosaku and Matthew Marsh, with original music by Raiomond Mirza
A BBC World Service co-production with The Open University
Winners arrive in London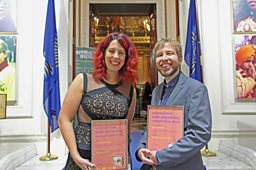 In October we at last had the great joy of welcoming our three winning writers of the 25th International Radio Playwriting Competition to London. Joanne Gutknecht (Canada) and Pericles Silveira (Brazil) were exceptionally busy: attending a workshop with two of our leading radio writers, Lin Coghlan and Sebastian Baczkiewicz, receiving their awards at a prize giving ceremony at the Commonwealth Foundation, taking a trip to see one of the West End's most popular productions and still managing to find time to record both their winning plays in our Drama studio in Broadcasting House! Jude Erupu (Uganda) who won this year's Georgi Markov Prize for the most promising script was also here for two weeks at the BBC. It was an absolute pleasure to have them with us and a wonderful way to round off what has been a fantastic and record-breaking competition, with over 1,000 entries from 112 different countries. Many thanks to our partners at the British Council, Commonwealth Writers and the Open University who've supported the competition.
The Day Dad Stole A Bus
by Péricles Silveira (English as a Second Language)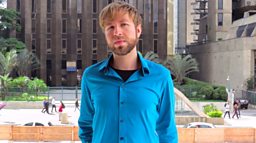 Nayara's father wants her to see her grandmother's house after the dam disaster in Bento Rodrigues. But why has he stolen a bus to take her there – and why do things keep disappearing?
About me: When I was little, I used to walk around the house holding a tape recorder and a mic in which I narrated stories about inanimate objects: the adventures of the alarm clock that had to cross my parents' bed to get to the window, or the phone that had to walk beneath the chairs in the living room. I built labyrinths with rows of string that went around all the door knobs in the house: a complex network of traps that the robots I'd built with paperclips and erasers could cross. At that moment my parents usually appeared: "Oh my God what's going on here?!"
But I was quite insistent.
I continued to tell stories. That's what I still do today.
I currently write on commission for cinema, TV, theatre and radio. Work as a playwright includes: PARALLAX ERROR (2015), a dystopian farce about a dictator and a girl who fights for LGBTQ rights - published by SESI-SP Editora. FERMATA (2015), a play that portrays the actor's fond memories of his grandad who was an ostrich and the actor's own struggle, using art to overcome speech impairments - performed at the Cultural Circuit of São Paulo. I've also written and co-directed ARTHUR 2.0 an interactive short film using eye-tracking technology so the viewer can make decisions in real time. I have a degree in screenwriting and photography from the University of São Paulo and I have also studied acting.
This is my first play for radio.
Playing with Fire
by Joanne Gutknecht (English as a First Language)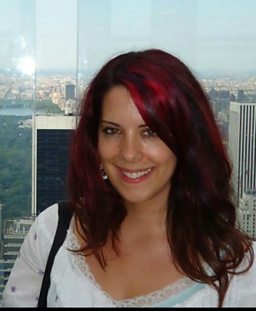 In a remote house in rural Canada, passions rage like the encroaching wildfire in the marriage of Judy and Arnold. Scandal and infidelity threaten to tear them apart, and their disturbed son Daniel can't stop playing with his dolls. How will they escape the imminent flame?
About me: Joanne was raised in a small rural community in Manitoba, Canada. Joanne developed an early interest in writing short stories and poetry. She excelled at writing in school, but preferred to follow other interests professionally. However the lure of creative writing has always remained strong. Joanne is involved in various charities and is passionate about human rights issues. She currently works as a Contracts Officer and travels in the Canadian Arctic, supporting Inuit businesses. She resides in Winnipeg, Canada. This is her first play.
Darkness at Dawn
by Jude Erupu (Georgi Markov Prize)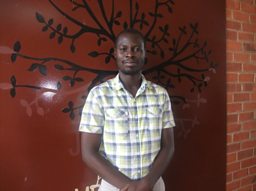 Having lost his father to the Lord Resistant Army after a brutal attack on his village, Chadwong must make a decision. Should he join the Arrow boys like his best friend Apukun, and fight to avenge his father? How will he care for his pregnant mother and siblings? Unable to reach the food aid his family so desperately needs, circumstances conspire to lead him on a desperate path in order to survive in this lawless, unjust world.
My name is Erupu Jude. I was born in Kaberamaido district in the North-Eastern Uganda Region - the third born of my mother and the thirteenth born of my father. I am a teacher by profession with a Bachelor of Arts with Education degree from Makerere University. Currently, I am pursuing Master of Development Studies. I am a born again Christian and a person with enthusiasm for work and support. Above all, I am a FINISHER.
I work in Hope Senior School Nakirebe and am a teacher trainer with Uganda National English Language Teachers' Association (UNELTA).
I started writing in Senior one, but I gave it up since there was no one to read my works or even encourage me. I used to read inspirational books and novels like Gulliver's Travels, Tom Sawyer, Alice in Wonderland, Things Fall Apart, Children et cetera. I loved how strong-willed characters like Okonkwo or Tom Sawyer jumped from their fictional stasis to reality. And then I had an experience of my own in 2002. I was a student in Lira Integrated when the woes of Lords Resistant Army rebels began. I participated in eluding capture several times by the rebels in Lira. This led to my transfer to Teso College Aloet in 2003 where I again evaded abduction by the LRA rebels. I witnessed starvation in Internally Displaced People's (IDP) Camps, rapes, shame, theft, poisonings and murders as people died before their time – at least many never reached their prime. It is here that I saw the grim face of the world smile with mockery and heartlessness – then a fire stirred inside, not of revenge, but hope – hope to turn the sad face of my world from sadness to joyfulness. If I could not lift a machete or pull a trigger, then I could at least shoot ink on paper and tell my tale and of those who are not here with me today. Now I know their voices will be heard. This is a start – a story in their honour. Thanks to BBC World Service and British Council that in 2016 some of these voices have been heard.
Regional Prize Winners
| Title | Author | Region |
| --- | --- | --- |
| The Maid Who Maid It | Mariam Samah | Asia |
| Tomorrow's Child | Janet Morrison | Caribbean |
| Hostages | Krasimira Djissova | Europe |
| The Confessions | Thomas B. Hukahu | The Pacific |
| Doorbell | Muserref Ozturk Cetindogan | Middle East |
Highly Commended Plays
English as a 1st Language
The Cozener, Ronke Gbede, (Nigeria)
Too Hot To Handle, Jonathan Munthali (Malawi)
Little Victories, Thomas Jefferson Green (USA)
Sanctuary, John Yunker (USA)
If Part 1, Victoria Goring (USA)
No Fowl, David Evan Thomas (USA)
Sashko, Maria Reva (USA)
Imbazza, Tony Balis (USA)
Out of Sight, Gena Ellis (USA)
Let it Come Down, Eve Lederman (USA)
Falling Into Shadow, Liana Chapman (Barbados)
Mayday, Austin Kenny (Ireland)
A Gift, Young-Mi Bang (South Korea)
English as a 2nd Language
Gemut, Melody Grome (Sweden)
Breaking the Kingdom Walls, Eresina Hwede (Zimbabwe)
The Wound Has Not Healed, Amuda Iddi Muhammed (Ghana)
The Dream, The Reality, Esme James (Sierra Leone)
Mrs Uwimana, Pease Melissa Kasonko (Uganda)
Kundai, The Boy Who Knew it All, Tafadzwa T J Njovana (South Africa)
The Doctor Who Loved Women, Jolade Aderonke Adebayo (Tanzania)
Commended Plays
English as a 1st Language
Singapore Got Cardenio, Geraldine Song (Singapore)
Dreamboat, Kirsten Miller (South Africa)
Coastland of Hope, Divine Mbutoh (Cameroon)
An Ancient Fairy Tale of Istar and her Brother Asar, Thomas D. Praino (USA)
The Betwixt and the Between, Gerald Thompson (USA)
Daughter of a Brave Country, Kim Velk (USA)
Lawrenceville, Derek T. Bell (USA)
Drummer 41, Ish Klein (USA)
Swine Song, Ron Harris (USA)
Apostles, Robert Fothergill (Canada)
The Patron Saints, Ken Jarowowski (USA)
Shoujodan: The Song Of The Scouts, Caitlin Alicia Cieri (USA)
If That Looking Glass Gets Broke, Jill Talbot (Canada)
Phoney, Brian O'Beirne (USA)
Midnight or Clear Blue Sky, Frederick Johnson (Barbados)
Foreign Temple, Sam Patrick (Barbados)
EDGE, S. L. Sheppard (Bahamas)
Goodbye Mr Black, Darion O. Spence (Bahamas)
Gone to Ground, Jon Barton (Spain)
Digging, Jennifer Harvey (The Netherlands)
L'Autobus, Jane Downs (France)
Gene Silencing, Neil hegarty (Ireland)
The Blue, Neil Flynn (Ireland)
Maafa, Oona Finlayson (Australia)
Asylum, John Hughes (Australia)
Soha and Bilal Go Missing, Joanna Haddad (Lebanon)
English as a 2nd Language
Michaela: The Angel of Death, Michaela Kwon (South Korea)
So Why Did She Shoot Him?, Lekha Limbu (Singapore)
The Collection, Ilari and Tuomas Kaila (Hong Kong)
The Fiction Writer, Yasuko Mukaino (Japan)
The Goddess of Twiwah, Macdell Joshua Kofi Sackey (Ghana)
The Surrogate, Achiro Patricia Olwoch (Uganda)
The Journey, Noel Kapakasa (Malawi)
Jeff is Back, Asatu Jalloh Liberia based in (Ghana)
Mabatho, Joshua Innocent Longwe (South Africa)
The Land Along the River, Alice Wa Gichuru (Kenya)
A Few Days to Live, Caroline Wanjiru Muchiri (Kenya)
A Beautiful Way to Die, Ogieriakhi Chika Maureen (Nigeria)
The Town in No Man's Land, Dilman Dila (Uganda)
You Will Not Understand These Things, Pamela Otali (Uganda)
The Pigeon Tree, Gino Diiorio (USA)
No Man No Cry, Tamara Bosack Dordevic (Serbia)
Yellow, Daniel & Tunde Molnar (Hungary)
A Short Introductory Course in Recycling, Pedja Kazazovic (Bosnia and Herzegovina)
Idle Capacity, Sophia Henbeck (Germany)
The Revenge of the Smarting Phone, Henrietta Hartl (Germany)
The Fear and the Terror, Ferran Ecegaray (Spain)
Weathering Hope, Vincent Vella (Malta)
The Outcast, Stanley Makuwe (New Zealand)
Rules of Life, Abdulaziz Al-hubaishi (Yemen)
32, Najwa Yassir (UAE)
L'Impasse d'Olso, Arin Kusaksizoglu & Nihan Asici (Turkey)
Congratulations to all those concerned and our thanks to everyone who entered the Competition.
Our Partners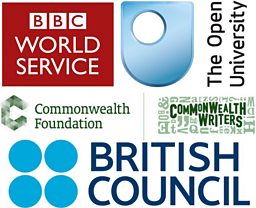 The International Radio Playwriting Competiton is run by the BBC World Service and the British Council, in partnership with Commonwealth Writers, and co-produced by The Open University.
Meet the judges
We are delighted to announce our judging panel for this years competition.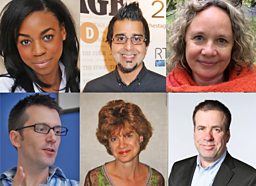 (clockwise from top left) Pippa Bennett Warner, Madani Younis, Charlotte Jones, Steve Titherington, Marion Nancarrow, Neil Webb
Pippa Bennett Warner
Pippa is a RADA trained actress. Since graduating in 2010 her theatre credits include King Lear with Derek Jacobi and Richard II with Eddie Redmayne at the Donmar Warehouse and The Beaux Stratagem at the NT. Her tv and film credits include The Smoke for Sky 1, Dr Who, Marple, The Secrets and the forthcoming film Wakefield alongside Bryan Cranston. She is currently filming Sick Note for King Bert Productions and Sky Atlantic.
Charlotte Jones
Charlotte is a highly experienced and successful British playwright whose plays have been performed at the National Theatre, the Donmar, the Almeida, the West End and all over the world. She has written and adapted over twenty original plays for BBC Radio 4. She has also written for TV and film and most recently created a new Sunday night series for ITV, airing in 2017, "THE HALCYON".
Madani Younis
Madani took over as Artistic Director of the Bush Theatre in 2012. Prior to his appointment at the Bush, he was Artistic Director of Freedom Studios in Bradford, Yorkshire where his work included the site-specific work, The Mill – City of Dreams. Madani originally trained in film, and his debut short film Ellabellapumpanella, commissioned by the UK Film Council, was screened at the Cannes Film Festival in May 2007. He was the recipient of the Decibel Award at the South Bank Awards show in 2006.
Steve Titherington
Stephen is senior commissioning editor for the BBC World Service in English. Previously he was a senior editor in World Service News, overseeing award winning coverage of leadership changes in Russia and China and elections in India and the USA. Steve also leads on major seasons and themes for the World Service including the latest Identity series.
Neil Webb
Neil is Director of Theatre and Dance at the British Council. He is responsible for leading and delivering a performing arts programme across the British Council's 110 country operation. He returned to the UK in 2012 after 15 years working in Asia, where he led the British Council's arts & creative economy programme across 14 countries and territories. Neil is a graduate of the University of California at Berkeley (Politics & Japanese) and City University in London (Arts & Cultural Management). He also trained in ballet and contemporary dance and is a 2006/7 Fellow of the Clore Leadership Programme.
Marion Nancarrow

Marion has directed more than 200 dramas for the BBC, half of them for the BBC World Drama strand, which she ran for 11 years, working with writers and performers across the world. With the British Council, she has run drama workshops in Ghana, South Africa, Malawi and the Middle East and the first 2nd language Radio Writing Residency. Awards include Sony Gold and Silver, CRE Race in the Media and a New York Festival Medal.
Shortlisted Plays Announced!
We are delighted to announce the shortlist of plays to be considered for the 25th International Playwriting Competition, which this year received over 1,000 scripts from 112 countries.
| English as a first language | English as a second language |
| --- | --- |
| Tomorrow's Child, Janet Morrison, (Jamaica) | Goodbye Kofi, Bode Asiyanbi, (Nigeria) |
| Easter Island, Anton Krueger, (South Africa) | The Day Dad Stole a Bus, Pericles Silveira, (Brazil) |
| Playing With Fire, Joanne Gutknecht, (Canada) | Only Some of Us, Elizabeth Gail, (South Africa) |
| Listening, Leland Frankel, (USA) | The Waterloo, Ifeoluwa Watson, (Nigeria) |
| The Virgin Missile Crisis, Hoyt Hilsman, (USA) | The Confessions, Thomas Hukahu, (Papua New Guinea) |
| If You Come This Way Again, Lindsay Nightingale, (Australia) | The Maid Who Made It, Mariam Samah, (India) |
| N/A | Darkness at Dawn, Erupu Jude, (Uganda) |
| N/A | Tell them where I am, Ivy Rose Universe Baldoza, (Philippines) |
Many thanks to everyone who entered the competition. We had a record number of entries in this, our 25th Competition. The judges praised the ambition, originality and creative flair of so many of the submissions. The three winners will fly to London in October for the prize-giving ceremony and the recording of the two winning plays.
About the competition - the winners and the panel