Nima Abu Wardeh
Nima Abu Wardeh was born in the UK and is of English, Irish and Arab heritage.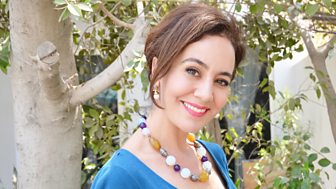 Nima has worked in television, radio and print in both English and Arabic.
She started her career in journalism working for Spectrum International, a radio station for ethnic communities living in London in 1993, where she created and presented a a weekly broadcast in Arabic focusing on social issues.
She went on to work for MBC, the first private free-to air Arabic satellite broadcaster, as a producer and reporter.
Nima then joined FT TV as a business producer and reporter working in both English and Arabic. In 1998 she joined the Al Jazeera London office as a business reporter.
In the year 2000, Nima moved to Dubai to work with The Business Channel, the world's first bilingual English Arabic global broadcaster where she created, produced and presented current affairs and business programmes in both languages.
During her time there, she interviewed numerous politicians, business leaders and decision makers within global and regional organisations - including the International Criminal Court, the World Bank, and the IMF.
During her time there, Nima covered key global and regional events such as the World Economic Forum in Davos, as well as its regional meetings held in the Arab world and the Arab Business Council.
Before joining BBC World, Nima was a regular commentator and guest on BBC Radio 4's factual programme Four Corners, and also appeared on Date London as an expert on Arab issues.
Nima was part of the team that launched BBC World's Middle East Business Report.
The half hour weekly programme covers business and finance issues across the region, and delves into how issues outside the Middle East, impact it.
Filmed on location across the region, the programme explores what it's like to live and work in the Middle East and how political and social issues affect the economic climate and business.
Reports and interviews span the whole spectrum of society and industry: prime ministers, royalty, business people, politicians, taxi drivers and the unemployed have all featured on the programme.
Nima has also covered the WEF and numerous regional forums and gatherings on behalf of BBC World and Middle East Business Report.
In 2004 Nima was a board member of the World Congress of History Producers, an international organisation that brings together media stakeholders with an interest in factual content, and its only representative from the Arab world.
In 2008 she was a member of the Arab Thought Foundation's Advisory Committee.
In 2009 Nima won the first Oxford Alumni debate to be held in the Arab world.
She is a Young Arab Leader and the winner of the New Arab Woman Forum's WOW media award for 2013. The award was decided by public vote.