Brian Lane
Where fellow UCOS member Gerry Standing is uninterested in the detail or the paperwork, Brian Lane more than makes up for it - almost obsessively.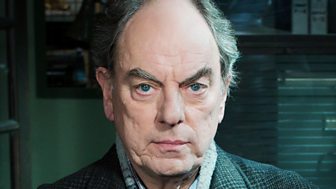 | Fact title | Fact data |
| --- | --- |
| Job title | Ex Dectective Inspector; Member of UCOS |
| Played by | Alun Armstrong |
A compulsive hoarder with a memory for names and dates, Brian's approach to the job couldn't be more different from the rest of the team.
His second approach to everything is humorous because he's so eccentric, compulsive and obsessive. Brian is a complete contradiction - he's stuck in the past and has been dragged into the modern world by the rest of his team. Characterised by a unique mixture of retaining the old and craving the new, Brian's relentness optimism never leaves him.
"He's like a boy who's never grown up"
Alun Armstrong
Alun's been a familiar face on screen since the 1970s. He played Inspector Bucket in the BBC's 2005 adaptation of the Charles Dickens classic Bleak House. The suspenseful tale about the injustices of the 19th-century English legal system was a ratings success, and won a BAFTA for Best Drama Serial.
He played Mr Fang in another Dickens adaptation, Roman Polanski's 2005 film Oliver Twist. He's such a Dickens fan that in 1999 he turned down a role in a Clint Eastwood film to take on the role of Daniel Peggoty in David Copperfield.
Alun's screen debut came in the classic Michael Caine gangster movie Get Carter. Other early roles included parts in Whatever Happened to the Likely Lads? and The Sweeney.
His many other TV roles include Austin Donaghue in Our Friends in the North, Detective Chief Inspector Frank Jefferson in In the Red, and George Mole in Adrian Mole: The Cappucino Years.
Film credits include The French Lieutenant's Woman, Krull, American Friends, Patriot Games and Braveheart.
In the 2000s, TV parts included the role of retired latin teacher Jim in When I'm 64, Samuel Evans in Carrie's War, John Southouse in Garrow's Law and Neil Henshaw in Andy Hamilton's Bedtime.
He was Academy Award nominated for his performance in The Child Eater, a short film by Jonathan Tammuz, and nominated for the Best Actor Award by the Royal Television Society for his performance in This Is Personal: The Hunt for the Yorkshire Ripper in 2000.
He won a Laurence Olivier Theatre Award for his 1993 Royal National Theatre performance as Sweeney Todd.
More About Alun Armstrong
Alun's played a detective before - he was the coolly amoral Inspector Bucket in a 2005 Dickens adaptation

Read the BBC News article on Roman Polanski's adaptation of the Dickens tale, in which Alun plays Mr Fang

In a 2004 BBC Press Office interview, Alun reflects on how playing a retiring teacher made him aware of the passing years