Barry Fairbrother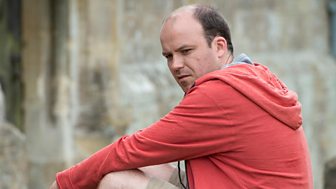 40-year-old Barry is married to Mary and has no children. He grew up in the Fields, and is half-brother to Simon Price. Barry has made a success of his life: he became a solicitor and is now a partner in a firm alongside Miles Mollison. He sits on the Parish Council and is the passionate defender of the Sweetlove Legacy (set up to help the community of the Fields) which is now under threat.
Barry was lucky to escape the Fields but others are not so lucky and he is determined that Krystal and others like her should not be forgotten about. With no children of his own, he is also close to his nephews Arf and Paul. But for all his thoughtfulness and care for those around him, his own wife is beginning to feel neglected.
When Barry suddenly dies, Pagford is left in shock. How will the community fare without him?
About Rory Kinnear
Rory Kinnear is an award-winning actor of stage and screen. Television credits include Penny Dreadful, Lucan, Southcliffe, Count Arthur Strong, The Mystery of Edwin Drood, Richard II, The Thick of It, Cranford and Ashes to Ashes.
In film, Rory's past credits include The Imitation Game, Cuban Fury, Quantum of Solace, Skyfall and Broken, for which he won a BIFA for Best Supporting Actor.
In Theatre, Rory's performances include Nicholas Hytner's Othello and Hamlet for the National Theatre, both of which performances won him the Evening Standard Award for Best Actor and Michael Attenborough's Measure for Measure at Almeida. He also starred in Howard Davies' Burnt by the Sun, that garnered him a Best Actor Evening Standard Award and Philistines, both at the National Theatre.