Derek Brockway
Come rain or shine, Derek's head is never in the clouds...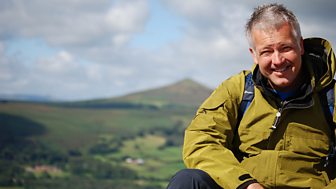 It was at the age of eight, during the long hot summer of 1976, that Derek Brockway first became interested in the weather.
"I have always been fascinated by the weather and used to drive my parents bonkers watching all the weather reports. Call me a sad anorak but all through school it became my ambition to work with the weather.
"I took A levels in maths, physics and geology. Maths and physics are really important in this job. People always think geography is the most important, but actually you need to understand the science."
After studying A levels at Barry Boys Comprehensive, Derek joined the Met Office as an observer in September 1986, working mainly at Cardiff Weather Centre but with spells at Cardiff Airport, Birmingham Airport, and eight months in the Falkland Islands.
"I was observing weather for RAF aircraft - Tornadoes, Hercules, Sea Kings, Chinooks. I'm employed by the Met Office which works closely with the military, supplying weather information."
After further study he became a forecaster in 1995, landing a job at Birmingham Weather Centre and presenting on the radio. Then it was on to London where he had his first taste of TV, broadcasting on GMTV in 1996.
"At GMTV I was looking at the weather for the whole of the UK. I was very nervous to be on national television, so it was a good job my broadcasts went out early on Sunday morning!"
However, a year in London was enough for Derek and, after working in Bracknell as an Environmental Consultant, he returned home to Wales. He joined BBC Wales Today in September 1997.
"I replaced Helen Willetts as the main weather presenter, and have been here ever since! As well as preparing and presenting the lunchtime and nightly TV forecasts for BBC Wales Today, I also present weather bulletins for BBC Radio Wales.
"Contrary to popular belief, weather forecasting is not about looking into a crystal ball. There's a lot more to it than that! I come in mid-morning and spend the day preparing the charts, analysing the satellite and radar pictures and speaking to the Chief Forecaster in Exeter.
"My trick to calm my nerves is to be well-prepared, but I always feel that you have to have adrenalin to feel the buzz. While I am speaking, someone is giving me a time count in my ear. I have to finish on time otherwise the news reader will get upset - not a nice thought!
"I have appeared on BBC's Auntie's Bloomers, reading the weather from an open top bus during the Rugby World Cup in 1999, chatting about rain and strong winds, when the huge umbrella I was sheltering under was hurled like a javelin across the road. Thankfully, no one was hurt, but it was a moment I will never forget.
"I check the weather in the morning to see if my forecast has been right. If I'm wrong, I'm like a bear with a sore head, but if everything has gone according to plan, I feel on Cloud Nine."
You can keep up to date with my weather reports and all things meteorological on Twitter - @bbcwalesnews and @derektheweather and if you enjoy walking in Wales, visit my Weatherman Walking website for some inspiration!