Captain John C Raaen Jr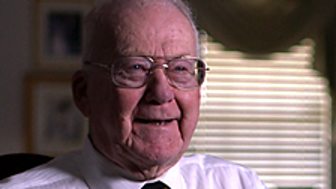 Captain John Raaen was 22 when he landed on Omaha beach in command of Headquarters Company of the 5th Ranger Battalion.
Born the son of an officer on an army base in Georgia, Raaen had the military in his blood, attending West Point before progressing first to the Engineer Corps and then the newly created 5th Ranger Battalion in 1943. Modelled on the British Commandos, the Rangers were an elite fighting force specializing in stealth raids and amphibious assaults.
Supposed to follow on behind the 2nd Rangers tasked with attacking the Pointe du Hoc, delays and miscommunication meant Captain Raaen and members of the 2nd and 5th Ranger Battalion were sent in to Omaha beach instead. Arriving at a slightly less well-defended section of the beach, Raaen and his Rangers were able to break through the German lines, challenging machine gun nests and helping to slow down the slaughter on the beach below.
On D+1 Raaen began making his way to the Pointe du Hoc where he eventually helped to relieve the troops whom had been held there by German gunfire since the early hours of D-Day.
For his first three days service in Normandy, Raeen was awarded the Silver Star. After the war he went on to rise through the ranks to Major General before retiring in 1979.