Cyrus Todiwala
Cooking is a way of life for Cyrus.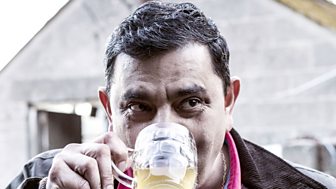 Whether it's cooking for customers, friends or HM The Queen on her Diamond Jubilee Tour - it's all in a day's work for the remarkable Mr. Todiwala.
Cyrus is a Parsee and a Zoroastrian, born in Bombay. While his father was the Automobile Association's Chief of Road Service, Western India, Cyrus was destined to follow a different road altogether.
The kitchen is Cyrus' castle and you'll never find him too far away if he can help it. His mother's unforgettable cooking inspired him as did carrying out the family's market shopping from the age of 7!
He graduated in Hotel Administration and Food Technology in Bombay, quickly making his mark and rising to Corporate Executive Chef of a luxury hotel group in India before setting his sights on the UK more than twenty years ago.
And he can cook! Parsees are known for their versatility and sharp minds, and besides having all that, this chef is renowned for his refined, elegantly spiced, and sophisticated Indian cooking. Cyrus has three successful London restaurants and a number of much loved cookery books under his belt.
He's both a passionate advocate of British produce and a walking encyclopedia of spice lore. Deeply committed to education and training, Cyrus devotes much time influencing a new generation of chefs. A committed environmentalist, he loves using organic and sustainable products and has helped to establish two bird sanctuaries in Goa. He is extremely proud of his Sustainable Food Award.
A regular on Saturday Kitchen, Daybreak, BBC Radio 4 and LBC, Cyrus works hard for charity and the future of the culinary arts, and has been awarded both an MBE and an OBE and is a Deputy Lieutenant of Greater London. No matter who he has cooked for, according to Cyrus, his wife and sons are still the most difficult to please!