Tony Singh
He may be a chef with a turban, but he doesn't do curry!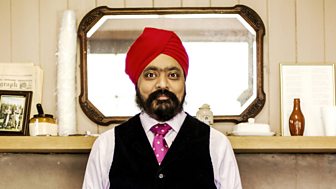 Well, not very often anyway. A fourth generation Scottish Sikh, Tony was born in Leith and learned the joys - and rewards - of cooking and sharing marvelous food in the langar or Sikh community kitchen, as well as absorbing the culinary influence of his Mum and Aunties at home. They did their best to bring together both cultures - Tony's Mum's haggis pakora being a stunning example - taking the best of Scottish produce and spicing it up to great effect.
After surprising himself by winning a prize for Home Economics at school, Tony trained classically as a chef at college in Edinburgh. During his training and while working on the Royal Scotsman and the Royal Yacht Britannia, he steered well clear of the spices he'd been brought up around.
But when he went solo at his own award-winning restaurants, he remembered what he should never have forgotten - that spices actually enhance food, they really do make it taste better.
The winner of Scottish Chef of the Year and a very popular and cheeky contestant on the Great British Menu, he is now a self-confessed Spice Missionary. His passion is for showing us how to combine our top class British ingredients with all the subtlety of spices to enhance our favourite classics and create new ones.