John Coniston
Meek, mild, and middle aged, John is a management drone stuck in a humdrum meaningless existence.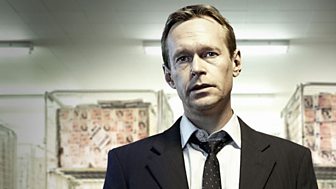 Employee of the month more times than he can remember, he has never been anything other than loyal to Larson House, or to his wife Kirsty with whom he is adopting a child.
But then a number of things happen. Small things beyond his control that begin to get bigger. Money starts to go missing from the counting house. One employee tries to steal £20, next to nothing in the grand scheme of things, but that leads to bigger amounts vanishing too. One day more than fifty thousand pounds has disappeared from John's domain and he is the one that must take the flak from the regional manager. He promises that when he finds the people responsible he'll do whatever it takes to return the money.
Steven Mackintosh
Steven most recently starred in ITV1 law drama The Jury, playing Paul Brierley. He has also appeared in the first series of Luther, and is currently working on a motion picture reimagining of 1970s television series The Sweeney.
Steven Mackintosh on IMDB.