Rana Mitter
Rana Mitter is one of the regular presenters of Free Thinking, Radio 3's arts and ideas magazine.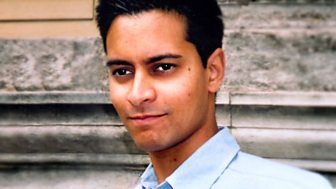 He has also presented The Sunday Feature on topics including the contemporary legacy of Confucius in China and the impact of the Russo-Polish war of 1920.
Rana has been fascinated by China since he was young, and studied Chinese at university. He went on to develop a particular interest in the connections between Chinese nationalism and the experience of war and occupation in the twentieth century. He has written and edited several books and numerous academic articles on these subjects, and is now Professor of the History and Politics of Modern China and a fellow of St Cross College at Oxford University. He was named Young Academic Author of the Year by the Times Higher Education Supplement in 2005 for his book A Bitter Revolution: China's Struggle with the Modern World (OUP), which was also runner-up for Longman History Today Book of the Year, a finalist for the British Academy Book Prize, and named a "must-read" notable book on China by the journal Foreign Affairs. His most recent book is Modern China: A Very Short Introduction. He directs a multi-year interdisciplinary research programme at Oxford funded by the Leverhulme Trust on the experience, legacy and memory of the Sino-Japanese War of 1937-45.
He has contributed to programmes elsewhere on the BBC including The Forum (World Service) and The Moral Maze, Start the Week, and Today (Radio 4).