Recipes
Try some of the best recipes from the stars of The Restaurant Man...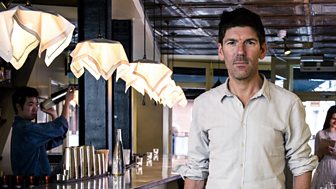 Roasted butternut squash and goats cheese quiche
Makes 7 10cm x 10cm square quiches.
Uses 10cm x 10cm x 4cm square mould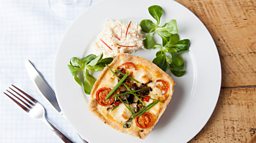 For the pastry:..
400g plain flour
100g wholemeal flour
1 egg yolk
1tsp salt
250g unsalted butter
Approx. 200ml of water
For the custard:
8 eggs
500ml double cream
500ml semi-skimmed milk
1tsp salt
Pinch of black pepper
Good grating of nutmeg
For the filling:
350g good cheddar
14 cherry tomatoes
700g butternut squash
350g goats cheese
Salt
Pepper
Dried oregano
Dried thyme
Chopped spring onions/caremelised onion (optional)
 
Pastry (using a Magimix/mixer)
Pulse flours and salt together for a few seconds
Add chilled butter chopped into small cubes
Pulse until a breadcrumb texture is reached
Add egg yolk and pulse again for a few seconds
Add chilled water at a steady rate until the mixture comes together in a rough ball.
With floured hands bring pastry to a rough ball and chill in fridge to ease rolling.
Tear off approx. 140g of pastry and roll to approx. 3mm thick rough square.
Fold pastry from edges to middle on all side of square
Place in mould and fold edges out and over edges of mould.
Take care not to break corners or edges as it need to hold a loose custard – patch any holes up.
Blind bake at 180 degrees c for 25mins.
When the cases are cool you can trim off the excess pastry edges with a sharp knife.
To fill cases:
Cut the butternut squash into 2cm cubes, season with salt and pepper and oregano, drizzle with olive oil and bake on a baking sheet at 180 degrees c for 25 minutes or until the edges start to caramelise.
Sprinkle 50g cheddar into each pastry case so that the bases are evenly covered.
Place 100g roasted butternut squash into the centre of each case, making a mini mountain so that the butternut squash sits slightly higher than the pastry.
Place half a cherry tomato in each corner.
Cut the goats cheese into 4 cubes and place in the gaps between the tomatoes.
You can also add either finely sliced spring onion or some caramelised onion on the top.
Mix together all the custard ingredients to make the custard.
Pour the custard over the filling slowly so that all the cracks are filled. Fill again until the custard is almost level with the top of the pastry.
Place a sprig or two of thyme on the top and then bake, still in the square moulds, for 40 minutes at 170 degrees c or until the custard is set.
Use a skewer to check that the quiches are cooked in the centre. If the skewer comes out clean, the quiches are cooked.
Garnish with some chopped chives and serve warm with celeriac and apple remoulade.
Celeriac and apple remoulade:
250g grated celeriac
250g grated Empire (or any red apple) - leave the skins on
2 tbsp of mayo
1tsp Dijon mustard
Squeeze of lemon
Salt and pepper
Combine all the ingredients together until you get a coleslaw-like consistency.
Il Padrino's Nana's Special Sauce
Serves 4-6 people depending on how much you like on your pasta!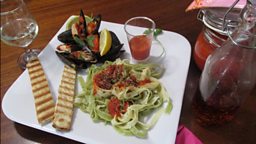 3 x 400g tins quality Italian tomatoes
1 x small pack fresh ripe tomatoes - plum, cherry, or what you have to hand
5-6 cloves of crushed fresh garlic (I like to use lots)
5-6 fresh leaves of basil
Olive oil
Salt
This sauce can be used not just on pasta but on pizza or rice. You can also eat it with fresh crusty bread - delicious!
Blend the tomatoes thoroughly. You can remove the skins first but if you blend them properly you won't need to. Why waste any of their goodness - and it's also time consuming!
Put in a large saucepan, (avoid aluminium pans when cooking with tomatoes).
Add the crushed garlic, salt and olive oil.
Cover the pan and cook on a high heat for no longer than 15 minutes, stirring regularly to prevent it burning.
Add the basil leaves 5 mins before the end of cooking so they keep their flavour, or if the sauce is to sit for a while you can add them at the end.
The Salt Bar's Chickpea Meatballs
Makes 20 balls (vegetarian and gluten free)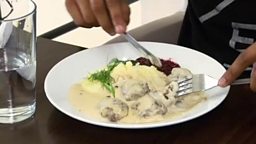 2 x 400g tinned chick peas rinsed
25g chopped fresh spinach
50g parmesan cheese (or vegetarian alternative) grated
2 large cloves of garlic chopped
2 eggs
100g polenta
salt/pepper
Crush the chickpeas by hand, and not too much as you don't want them to be pureed.
Add the spinach, cheese, garlic, 1 beaten egg, 25g of polenta, and salt and pepper to taste.
Make 20 balls from the mix. They will puff up when cooked.
Roll each ball in beaten egg and then polenta.
Chill in the fridge until ready to cook.
Deep fry at 190C for about 3 minutes.