Stephen Mangan (Sean Lincoln)
Sean Lincoln's in fighting form at the start of the second season of Episodes and, to prove it, Matt LeBlanc has a real life cut on his forehead! The big fight scene at the end of season one proved such a success that more physical comedy was written into the new season and Stephen Mangan is claiming credit for Matt's injury.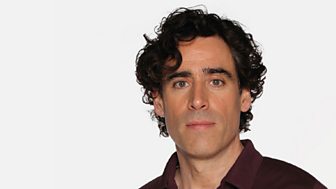 "I don't want to give too much away but don't mess with Mangan. I damaged Matt LeBlanc - what can I say? Acting is a tough business," jokes Stephen.
I don't want to give too much away but don't mess with Mangan.

Stephen Mangan
But Sean has good reason to start the new season on the attack after Matt has slept with Beverly.
"Sean came out to Hollywood full of naivety and optimism. He was excited by the prospect of working in TV in the States. But his show is horrible and his wife has slept with Matt LeBlanc. He is not unmarked by that, he's more serious and more angry. The experience has been hard on him," says Stephen.
But even though he is still reeling from the collapse of his marriage, it doesn't stop him having a fling of his own with sexy "Pucks!" star Morning Randolph (Mircea Monroe).
Stephen says: "He's not cheating on anybody, he's not being unfaithful because he and Beverly are not together. And it was his birthday and she was up for it. Who was it going to hurt?"
The show reunited Stephen and Tamsin after their triumphant collaboration on Green Wing, and he says it has made playing husband and wife much easier.
"Sometimes, when you play husband and wife, you are meeting the other person for the first time. But we have this real relationship where we know each other so well, and we have known each other for so many years, and we make each other laugh, which is all a big bonus."
He and Matt have also struck up a friendship and Stephen went to stay with him in his home in California.
"There's nowhere in the world he can go without being recognised and causing excitement. It's interesting how invisible you become walking around with him. I'm not massively famous, a few people know who I am, but that level of interest and hassle is extraordinary and he handles it incredibly well."
But Matt has yet to take up Stephen's offer to show him some of his favourite aspects of London.
"I can't drive him around in a Ferrari like he did with me, so instead I've been trying to get him to come and see Tottenham Hotspur play football, but I don't think there is much hope of that. He can't believe a sport lasts 45 minutes without a break and the level of catering is not high enough - a lukewarm chicken and mushroom pie won't do," jokes Stephen.
In the past 12 months Stephen's career has seen him play Tony Blair in Channel 4's The Hunt For Tony Blair and provide the voice for Postman Pat in the upcoming movie. It's the kind of contrast he delights in.
Stephen says: "I look for something I would want to watch. Sometimes I read stuff and I think that's really good, but I wouldn't watch it. I loved playing Tony Blair. Inevitably you form two-dimensional opinions of people, but the more I read about him the more complex the picture is. What I loved most was he was like someone starring in his own film, all the time aware of his own importance in the drama, like a dashing leading man. As for Postman Pat, when I told my four year old that I was playing him he told me not to be so silly. Because I'm doing the voice, not wearing the ginger wig and glasses, he says 'That's not you, Daddy'."