Disabled Access Information
Information for disabled ticket holders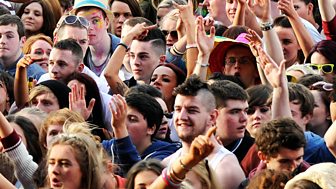 We look forward to welcoming everyone to BBC Radio 1's Big Weekend in Glasgow and BBC Radio 1Xtra Live in Glasgow. We will have various facilities in place to assist disabled listeners with tickets, including:
• Viewing platforms or viewing areas
• Accessible toilets
• Disabled customer car parking at Glasgow Green and the Riverside Museum (but NOT at George Square – please use local car parks – the NCP on Ingram Street is one option)
• Easy access routes in and around the arena, where possible
• Wheelchair charging points
• Dedicated staff on all disabled access facilities on the day
We will also consider requests for additional, complimentary, PA/Companion tickets for those requiring one (see below for how to register).
Please note all these facilities are designed for use solely by disabled people attending the event and we are not able to accommodate those with short-term injuries, for example with broken legs, or women who are pregnant.
If you would like to use of some or all of our facilities, please notify us by Friday 9th May to give us time to make the appropriate arrangements. Some facilities will only be available to a limited number of users and telling us your needs in advance will help us in the planning process.
Anyone turning up on the day without making prior arrangements may not be able to access our facilities if they are full to capacity.
Radio 1 and 1Xtra are working with the disabled access team from event provider Live Nation to help ensure your visit goes smoothly and it will be this team that contacts you to help with any queries.
Registering your requirements
Those hoping to attend will need to apply for tickets when they become available in the normal way.
At the bottom of the payment page there will be a tick box option which you can select to request access to disabled customer facilities at the event. If you tick this box you will be emailed a registration form, which needs to be filled in and returned. Within the form you can request access and provide us with any additional information we may need to know.
Should you forget to tick this box, or if the form fails to arrive, you will also be able to email our team directly at access@livenation.co.uk. Please make sure you include your name, the day you are attending and any requirements you have.
The final date for registering is Friday 9th May 2014.
Please Note: Customers requesting use of disabled access facilities and/or PA/Companion tickets will be asked to provide us with sufficient medical documentation to support their application and to validate their request.
 We accept the following supporting information: DLA entitlements clearly stating the levels of mobility and care awarded; hospital or doctor letters giving a brief description on your situation; and/or other medical documentation pertaining to your disability.