Gabriel Brodie
Larger-than-life character Gabriel Brodie is a charming chancer with an eye for spotting opportunities – in business and pleasure.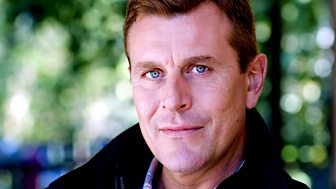 He's not afraid to live dangerously, bending the rules to his own advantage, even if that means occasionally taking advantage of someone else's good nature. Gabriel has spent his life living by his wits - ducking and diving is second nature to him.
Brother to Leo and Michael, Gabriel had a particularly strong bond with older sibling Michael and tried to emulate him by joining the army, but not being naturally suited to following orders, he quit. Never feeling the need to put down roots, Gabriel has finally settled in Shieldinch having followed Michael and his family there. However, family loyalty was pushed aside when Gabriel embarked on an affair with his sister-in-law Leyla.
Following Michael's tragic death in prison, it looked as though Gabriel and Leyla's relationship might finally have a chance but alcoholism, guilt and family disapproval stood in the way of happiness.
Initially emotionally detached, Gabriel used to hold the belief that if he never got too close to anyone, no one could ever hurt him. These days, he's more willing to let people get close to him including his much-loved niece, Nicole, but he's savvy enough never to wear his heart on his sleeve.
That was, until he embarked on an affair with Mandy Kennedy. What started as a fling with the local gangster's wife has blossomed into much more. But their attraction proved fatal when Mandy was gunned down by police marksmen as she attempted to rid herself of Billy forever to be with Gabriel.
Heartbroken by Mandy's death, Gabriel is still smarting from his loss. But when it comes to living dangerously, Gabriel's like a moth to the flame…
Garry Sweeney
Garry plays Gabriel Brodie in River City. 
Joined River City - August 2010
From - Glasgow
Star Sign - Sagittarius
Loves - The sunshine
Loathes - Mushrooms
TV Treat - Breaking Bad