Joseph Fenton
A rival department store owner.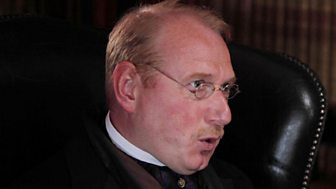 Joseph Fenton is one half of the notorious Fenton Brothers, who have two emporiums in Manchester. Intent on expanding their chain of department stores Fenton wants to buy The Paradise as the jewel in their crown. A very successful businessman, Fenton is used to getting what he wants and isn't afraid to use immoral tactics in order to achieve his goals. His manipulations take hold of Moray and lead him down a dark and dangerous path.
Adrian Scarborough
Adrian has extensive television credits in comedies such as Psychoville, Gavin and Stacey, Miranda, Up the Women and is currently filming a lead in ITV's Edge of Heaven. Recent drama credits include Restless, Mrs Biggs, Upstairs Downstairs, Doctor Who, Cranford and, on film, The King's Speech and Les Miserables.