Jemima Harrison
Jemima is a former print journalist who wrote for many national newspapers and magazines before joining the BBC in the late 1990s to work on various documentaries, including the award-winning Inside Story: Tongue Tied, about the broadcaster John Diamond's battle with cancer.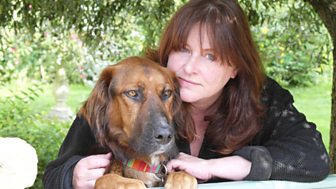 Her credits as an independent producer include Horizon: Ecstasy and Agony (BBC2) about a young man with Parkinson's Disease who had discovered that the drug ecstasy helped alleviate his symptoms (a revelation that helped change research in Parkinson's); Can Dogs Smell Cancer? (BBC4/BBC2) and The Family That Walks on All Fours (BBC2), examining claims by a Turkish scientist that a quadrupedal family in Turkey were an example of "de-volution".
Jemima's passion is documenting what happens "when people bump into science – and that, essentially, is what almost all our films are about, including Pedigree Dogs Exposed."
Jemima grew up with pedigree dogs – Great Danes, English Setters and Labradors – and now shares her life with a Flatcoated Retriever, Maisie, a Border Collie, Feeby, and seven mixed breeds. She runs a small independent rescue for gundog breeds and mixes, mainly rehoming dogs rescued from Irish pounds.
She campaigns on the pedigree dogs issue via her blog: Pedigree Dogs Exposed - The blog.